The Kafenia Spring Series: Our Common Humanity (yummy food, global friend...
Description
Yassou globalicious friends,
Come hang out with us! This is a space for you and other amazing global friends to be together in community, to slow down, share & support each other in our heart-centered engagement in the world.
SPRING SERIES - OUR COMMON HUMANITY: sounds, stories & spoken word
2nd Wednesdays at Una Mesa; 530-9 pm, with gathering together at 7 pm, includes yummy village dinner. Come for part or all.
MAY 10 -- Poetry Night, translated (share a favorite poem in original language and English).

"Translators are the shadow heroes of literature,

the often forgotten instruments that

make it possible

for different cultures to talk to one another."

—Paul Auster

APRIL 12 - FINISHED: NONVIOLENCE: Stories of Hope: Peacebuilding in South Asia and here. Join us for community dialogue and conversation with 2 special guests: Mahendra, an activist and peacebuilder from Gandhi's region of Gujarat, will speak about the principles of Gandhism, in conversation with Farah, a Kathak dancer who uses dance to have conversations about identity, gender and belonging. She is developing a new work to premiere in 2018 on the partition of India and Pakistan. My very old friend from high school (we were both Interact Club presidents' at Gunn High School) is co-organizing this gathering with wisdom from the nonviolence movmenet in India, and how it can inform us today. Kala is going to prepare a traditional Gujurati meal with food never found in restaurants! \
MARCH 8 - FINISHED! International Womens' Day! Soothing sounds & song (in the midst of the stress we face, let's be soothed by sounds of nature and the voice and feel part of something larger) led by Nova, Kafenia friend and singing prof at Stanford.
JUNE 10th Evening - PEACE MEAL 2017: Our series will culminate in a free community family dinner celebrating our diversity and all of us touched by war and conflict. This will be the first of an annual community wide event spearheaded by our friends directly affected. Because it coincides with Ramadan and many of our friends wouldn't be able to join a daytime gathering, we decided to do a Ramadan meal traditional to Libya at dusk from Kafenia participant Mohamed (learn more about him and his efforts to pay for university here). It will be amazing! More to come....
Summer: We will have our first public pop-up at Cafe Zoe! And we will return in the fall with our monthly gatherings until we get a space open!
---
MORE ABOUT US:
The Kafenia is a place of welcome, of inclusion, of heart-centered progressive community building. We bring together friends from around the world and especially other Mediterranean and Middle Eastern cultures with whom the Greeks share many foods & values, including the tradition of hospitality and welcome.
Our Spring Series is centered on Our Common Humanity. We felt, in the midst of efforts to divide us and amidst so much stress right now, what we really needed was an evening of quiet, of connection, of soothing sounds and voices. We will sing together (optional) and also share soothing sounds.
530-630 pm - hang out with yummy food including meze and a soothing stew & sometimes a 'guest' sharing stories just back from travels abroad.
7-830 pm: Gathering
Ticket includes drinks and dinner (usually Greek except for April 12th)
Join us - we range from global women faculty at Stanford to someone who arrived as a refugee last year. In the Kafenia everyone is welcome and needed to rebuild our community. Buy a pay it forward spot so we can extend invite to refugees and young leaders.
About the Kafenia:
The Kafenia is a reimagining of the traditional Greek kafenio where men shared food, friendship and social and political life together. My grandfather had a kafenio at 16th and Folsom in San Francisco in the 1930s to keep the village alive in the bustling metropolis- but it was only for men. Now, as his granddaughter Mary Jane, who has done peace building around the world, I am reimagining it as a multicultural village – with women front and center. We started in the fall, and are continuing monthly this winter/spring as we move towards opening a permanent space. Read more here.
Come check out the action of the day, fresh mint tea, and the yummiest feta this side of the Aegean...
We hope you can make time for yourself to slow down, connect, listen and share. We need you!
Warmly,
Mary Jane & Friends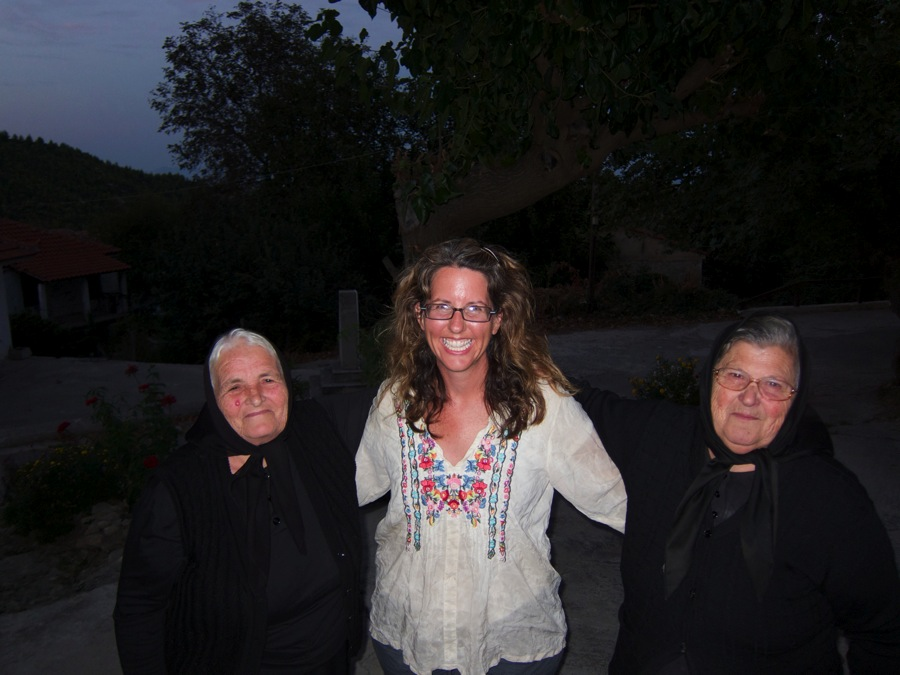 The Kafenia is an emerging Greek-inspired cafe/community gathering space in Palo Alto where we can slow down to the village vibe, enjoy nourishing, earthy food and heart-stirring gatherings on cultural and social issues.
Organizer of The Kafenia Spring Series: Our Common Humanity (yummy food, global friendship & peace)