Join hundreds of dynamic Jewish women entrepreneurs and executives from across the globe for a day of learning, collaboration and support.
About this Event
This year's program includes general sessions, structured networking opportunities, and 7 different breakout tracks with over 30 classes to choose from. In addition to our programming for business owners, we're proud to announce that this year we've expanded to include a track for employed professionals looking to advance in their careers.
Some of this year's speakers include Talia Mashiach (founder and chief architect of Eved), Sarah Hofstetter (former CEO of 360i), Blima Strobel (Senior Director of International Licensing- Business Development & Operations at Tommy Hilfiger), Chaya Krinsky (Co-founder, TOV Furniture), Ariela Esquanazi (Founder and CEO, Ariela & Associates), Freida Rothman (Founder and CEO, Freida Rothman Jewelry) and Naomi Klamen (Customer Engineer Manager, Google).

THE JWE APP
As we role out our conference, we're also launching our new virtual community: The JWE app. The JWE app provides a community, directory and resources for Jewish women entrepreneurs and professionals attending The JWE 2020 Business Conference and beyond. The app will help you network with other attendees before, during, and after our conference, learn about our speakers and sponsors, and build your personal schedule of sessions to attend. You'll also be able to start and join community discussions and privately message other members.
Wish you could participate in every breakout session at the conference? We've got you covered. Following our event, all speaker handouts and videos of almost ever session will be available to you directly on the app.
Looking to find other attendees in your industry? Use our directory - you can even message participants and schedule 1:1 meetings with them at the event, directly through the app!
Have a general question or looking to put together a travel group from you area? Post in our community discussion groups!
If you're ready to join a community of brilliant, fierce, and passionate women like you, what are you waiting for?
ABOUT THE JWE
The Jewish Woman Entrepreneur is a national nonprofit organization that helps Jewish women leverage their creativity and talents to launch and grow successful businesses. By providing local collaborative support networks, business education and mentorship, the JWE fosters business longevity, financial independence for women and their families, and job creation -- promoting economic development in the Jewish and greater community.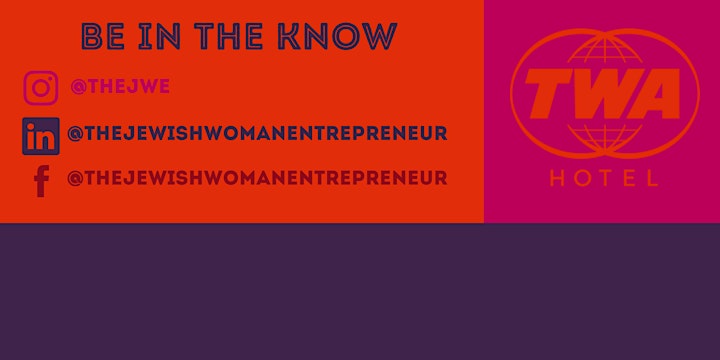 Date and Time
Location
Refund Policy