THE JUMP OFF 3
When and where
Location
735 QUEEN STREET EAST Toronto Canada
Refund Policy
Contact the organizer to request a refund.
Description
THE JUMP OFF 3
It's that time of year again when our beautiful city is united on a special night at The Opera House.
This year's event will be on Saturday, June 15th, 2013 and begins at 9:00 P.M. It will feature a wide variety of talented artists and bands ranging across multiple genres.
$20 for admission to the show, prizes and food courtesy of
Pizza Pizza and Panino Cappuccino.
Proceeds of the event will be donated to:

Starring:

Last Bullet (www.lastbulletmusic.com)
Michael Mazzé (www.youtube.com/MichaelMazzeVEVO)
Church Chizzle (www.churchchizzle.com)
Maccie Paquette (www.macciepaquette.com)
Epic The Grand (www.epicthegrand.com)
Street Dreama (www.streetdreama.com)
The Skyes (theskyes.bandcamp.com)
Br&new (www.youtube.com/superhudas)
Infu (www.itsmeinfu.com)
Juvon Taylor (www.soundcloud.com/juvontaylor/falling-up)
Prizes include: Two Signed Toronto Maple Leafs Jersey's (James van Riemsdyk & Mikhail Grabovski) & signed James Reimer puck, iPhone 5 (32GB), BlackBerry Z10, Two 100 Level Jays/Tigers tickets, V.I.P. Steamwhistle Tour for Ten, Molson Prize Packs, Kiss 92.5 Prize Pack, Signed Toronto Argonauts Football by Chad Owens, LG Optimus G, Zumba Passes
and much more!
THE JUMP OFF would like to thank its sponsors & supporters!


Corporate
Molson Canadian/Coors Light (www.molsoncoorscanada.com)
Pizza Pizza (www.pizzapizza.ca)
Steamwhistle (www.steamwhistle.ca)
TELUS (www.telus.com)
BlackBerry (www.blackberry.com)
Toronto Maple Leafs (mapleleafs.nhl.com)
Toronto Argonauts (www.torontoargonauts.com)
Print 3 (www.print3.net)
CHRY 105.5FM (www.chry.fm)

Grassroots
I Am High Def (www.iamhighdef.com)
N-Tycing Productions (www.istudio.com/870435)
MC Reproductions (www.mcreproductions.com)
MP Creative (www.michaelpriolo.com)
Vita Events (www.vita-events.com)
Panino Cappuccino (www.paninocappuccino.com)
Zumba-fied Mobile (www.dorlando.zumba.com)
MyCity Swag (www.mycityswag.net)
Brystal Allan Photography (www.brystalallanphoto.com)
Fun Sized Media (www.funsizedmedia.com)
IIIPIXELS (www.iiipixels.com)
Fsquared (www.fsquared.ca)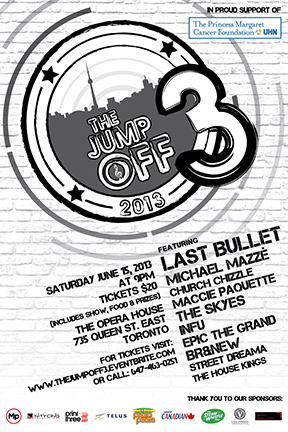 DJ: The House Kings (www.thehousekings.ca)
Hosted By: Adrian Pizzoferrato