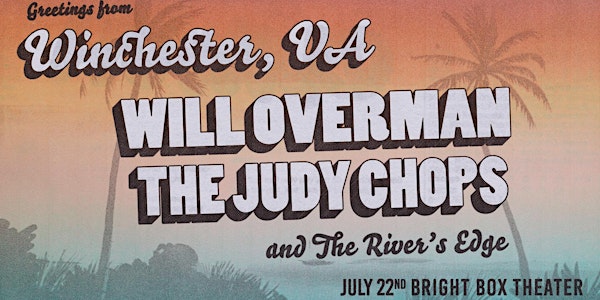 The Judy Chops / Will Overman / The River's Edge
Performers
The Judy Chops, Will Overman
The River's Edge
Location
Bright Box Theater
15 N. Loudoun St.
Winchester, VA 22601
Americana • Folk-Rock • Swing • Alt-Country
About this event
FRIDAY, JULY 22
DOORS, BAR, & KITCHEN OPEN at 7PM
SHOW at 8PM
TICKETS
GENERAL ADMISSION: $12 + admission tax & processing fee
DOOR: $15 + admission tax
Advance ticket sales end at 6PM the day of the show. If tickets are not sold out by this time they will be available for purchase when the doors open.
ALL TICKET SALES ARE FINAL. NO REFUNDS. NO EXCHANGES unless the show is cancelled or postponed.
IMPORTANT INFO
GENERAL ADMISSION
This is an all-standing show. Limited bar stool seating is available on a first come, first served basis. Be sure to wear your party pants and come ready to dance!
ALL AGES
FOOD & BEVERAGE available for purchase
________________________________________________________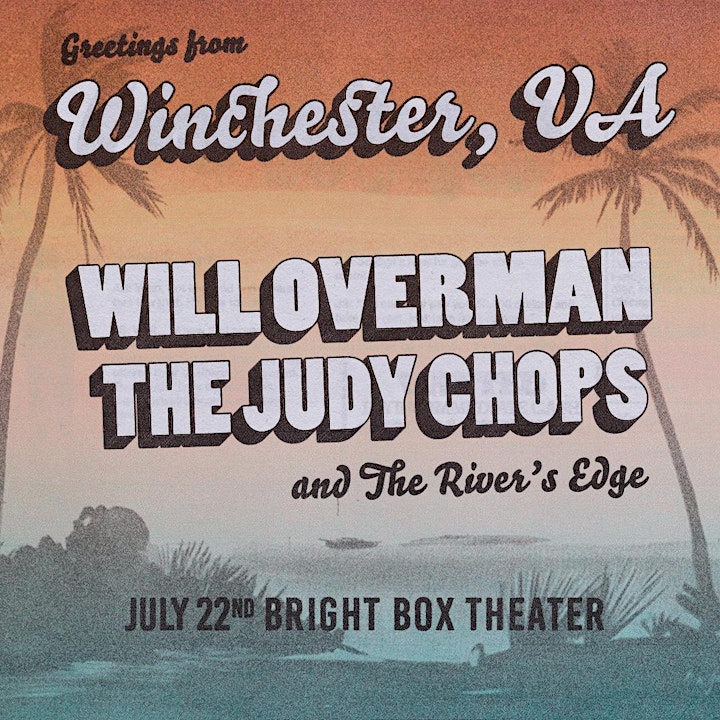 For the past decade The Judy Chops have been wowing audiences with their deft musicianship and high-energy live shows. This seven piece band comprised of family and friends has evolved from a Shenandoah Valley favorite into one of the hottest acts in the Virginia music scene. Their unique take on Americana is a fusion of modern and vintage musical styles, blending elements of swing, blues, rock, and soul for a sonic experience Huffington Post calls 'genre-defying!'
Will Overman's genre-bending, storytelling approach to songwriting is a product of being born and bred on the east coast, finding love and being tested on the west coast, and finding a renewed passion for his art around the world.
The central VA based singer-songwriter's music carries a maturity to match the up-and-down life he has lived over the past 26 years. From fronting a touring band while attending college, through-hiking the Appalachian Trail and traveling around the world for several months, to witnessing his parents divorce, standing by his wife as she fought and beat cancer twice, and going through tough financial situations while trying to make it as a creator; Will's songs evoke the wisdom of an old soul with youthful optimism. Listeners can easily recognize a blending of genres such as Folk, Pop, Country and Rock n' Roll in Will's music, bearing to mind the approach that legends Bob Dylan, Bruce Springsteen, or James Taylor took, and how today's singer-songwriter heroes such as: John Mayer, Jason Isbell, and Josh Ritter, have expanded on it.
Will initially found success with his collaborative project, Will Overman Band, touring up and down the east coast on the weekends while attending college at UVA. Consisting of musicians from central VA, the Southern Rock 'n Roll influenced Americana project released two EPs and an LP, playing bar gigs and festival slots (Merlefest, Appaloosa Music Festival, Roosterwalk) until in the spring of 2017, Will graduated and the band decided to go their separate ways. Not sure what to do next, Will began writing again, culminating in the release of his first solo studio work, 2017's Crossroads EP.
In the three years following the recording of his EP Crossroads, Will underwent a major growth and maturing period as life threw everything at him - both good and bad, all of which is captured on his debut solo LP, The Winemaker's Daughter (released Feb. 12, 2021). Will says, "The Winemaker's Daughter is about as close as you can get to a concept album without calling it one." Consisting of nine songs, The Winemaker's Daughter, is a retelling of the stories and moments from the last three years, of beauty made possible through pain, all with an undertone of hope for the future.
Although the record focuses on Will's pursuit of his wife Janey, his intimate, personal lyrics and dynamic melodies invariably lead listeners to trade places with Will and find their own romantic moments, intense heartbreaks, and fight for hope, woven in the songs on The Winemaker's Daughter.
FAQs:
Is there lodging nearby?
There are lots of great and affordable lodging options — from hotels and motels to camp grounds and bed & breakfast spots — just minutes away from Bright Box. Right around the block is the elegant George Washington Hotel, and Courtyard Marriott is quick drive and within a stones throw to the beautiful (and highly recommended) Shenandoah Valley Museum. Check out these websites to explore your options and discover all the wonderful opportunities in Winchester:
• http://www.visitwinchesterva.com/lodging/hotels-and-motels
• http://oldtownwinchesterva.com
Where do I park?
Bright Box is located at 15 N. Loudoun St. on the beautiful pedestrian mall in Old Town Winchester. The nearest parking is the Braddock Auto Park at 30 N Braddock St. This is about a block away from the venue. The parking garage does have several handicap parking spaces available.
Once you've parked in the garage you'll exit toward the pedestrian mall. Once you hit N. Loudoun you'll make a right and Bright Box will be on your right a few storefronts up, directly across from the Old Court House Civil War Museum
More information about the garage can be found here: https://www.winchesterva.gov/parking/garage-information
Is Bright Box handicap accessible?
Absolutely. The venue is handicap accessible and ADA compliant. The infrastructure in Old Town Winchester is friendly toward those with physical challenges or in wheelchairs. Park in one of the close-by parking garages and come to the main door at 15 N. Loudoun St. (the walking mall). We ask that you arrive when doors open, and we will be happy to escort you to a place best suited to your needs in the theater or to take you to the elevator to access the upstairs Out of the Box room.