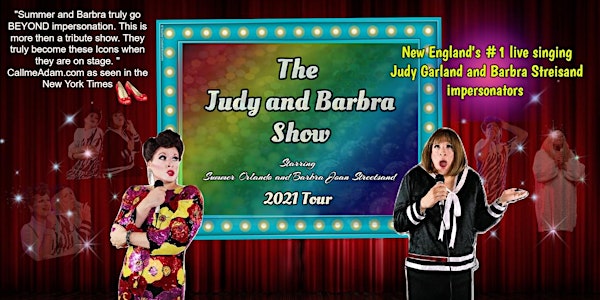 Location
The Milton Theatre
110 Union St
Milton, DE 19968
Summer and Babs have taken this sold out show all over New England, NYC, and Florida, from theater venues all the way to restaurants.
About this event
Summer Orlando is Judy Garland and Barbra Joan Streetsand as Barbra Streisand!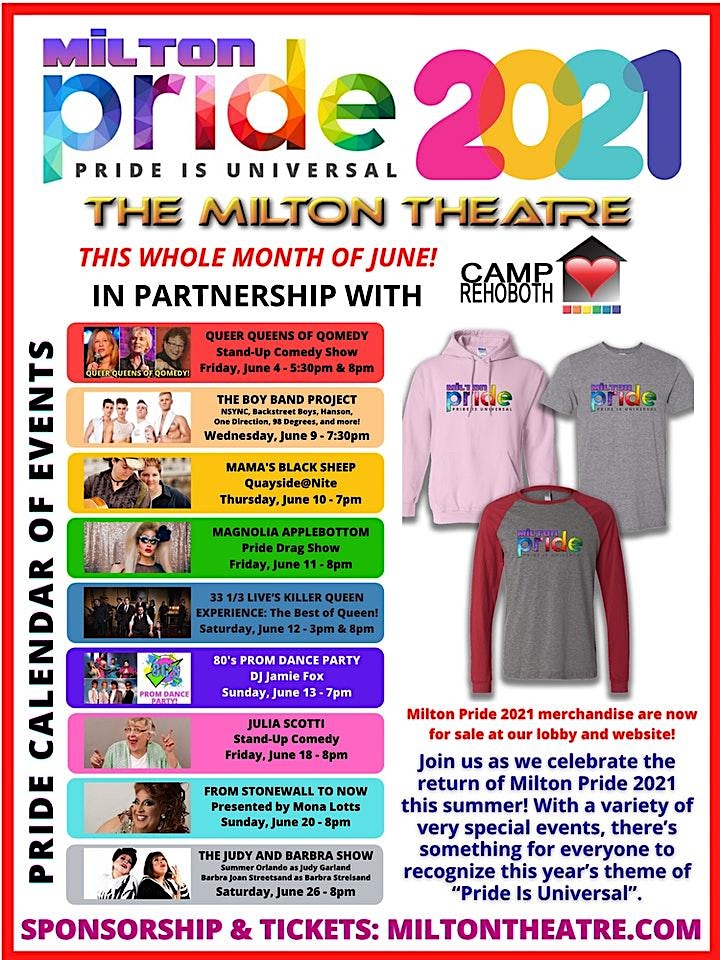 Join Us for Milton Pride 2021
Celebrate Pride with the Milton Theatre at this event. Pride events feature a variety of activities before our LGBTQ events during June.
About the Judy & Barbara Show
Website | Facebook | Instagram | Youtube
Summer and Babs have taken this sold out show all over New England, NYC, and Florida, from theater venues all the way to restaurants. and now are going on the road all across the US.
It is available for booking and works in any type of venue.
They recently Debuted their show at The Greenroom 42 in NYC: The Winner of 9 Broadwayworld Cabaret Awards followed by a 2 week theater residence in Fort Lauderdale.
"Summer and Barbra truly go BEYOND impersonation, this is more then a tribute show. They truly become these icons when they are on stage. This is a completely live vocal show with dazzling visual effects, replica costumes, lots of laughs, storytelling, and songs of the past. It promises to give the audience everything they expect from a Garland and Streisand show and maybe even a little more then they didn't know they needed. This show invites the audience to be a part of the show and there are in fact moments that include audience participation. " - Callmeadam.com as seen in The New York Times.
More on Summer:
As Connecticut's premier theater drag queen and illusionist, she is known for her Broadway quality costumes, show stopping performances, live singing, comedic timing, and her amazing event hosting skills. Her hosting duties include bachelorette parties, anniversary celebrations, Pride events, and birthday parties for all ages. She performs throughout New Haven and Hartford counties, in NYC, and everywhere in between!
Most recently she was handpicked by the producers of the movie Judy to be their meet and greet Judy Garland look alike on June 30, 2019 for World Pride in New York City.
Summer is the first male actor honored to play the role of Dorothy in a licensed production of The Wizard Of Oz in the world. Her most notable work has been with her own theatrical production company, Summer Orlando Productions. You can catch Summer touring throughout Connecticut performing her drag stage parodies and professionally impersonating Judy Garland, Bette Midler, Liza Minnelli, and other celebrities.
Summer is one of the first drag performers tapped by TGI Fridays to start its first monthly drag cabaret event, hosted with her business partner Barbra Joan Streetsand.
In her spare time she teaches choreography and directs at a children's theater, hoping to inspire kids to explore the wonderful and magical world of Theater. Summer likes long walks on the beach, show tunes, and cheesecake. For more about Summer visit summerorlandoproductions.com
More on Barbra:
Singer, actor, emcee, impersonator — Barbra Joan Streetsand is always the life of the party, has been impersonating Barbra Streisand, along with other personalities for 27 years, and acting for 40 years, winning regional awards. Her main repertoire consists of live vocals with covers of Barbra Streisand songs and original live parodies to hand picked Streisand songs from the 1960's through today. She is available for weddings, performing and/or officiating, birthday parties, bar/bat mitzvahs, charity events, or any other events you would feel appropriate. She, however, will not jump out of cakes at stags; she'd rather be eating it. For more about Barbra please visit barbrajoanstreetsand.com
About the Milton Theatre
Official Website | Facebook | Twitter | Instagram
The historic Milton Theatre is a uniquely diverse venue where you will find the best local, regional, national, and international talent. Free municipal and on-street parking are available. Full bar and light food options available. This facility is fully accessible.