The JSU Reading Community - Black Noise: Rap Music and Black Culture in Contemporary America

Thursday, October 24, 2013 from 5:30 PM to 8:00 PM (CDT)
Event Details
Jackson State University Reading Community Presents
Black Noise: Rap Music and Black Culture in Contemporary America
 The Campus Reading Community was launched in Fall 2010 here at Jackson State University. Its vision is to inspire reading throughout the JSU campus and the surrounding community.  Having discussed books such as "Where Do We Go From Here: Chaos or Community" by Dr. Martin Luther King, Jr , "The Souls of Black Folk" by W.E.B. DuBois, "Lynch Street" by Tim Spofford, and Medgar Evers: Mississippi Martyr by Michael Vinson Williams,  this Reading Community has been a way to stimulate the intellectual discourse on the campus and local community.
The 2013-2014 Campus Reading Community will begin a new academic year with new discussions on the campus of Jackson State.
The first discussion will be on the book:
Black Noise: Rap Music and Black Culture in
Contemporary America
by Tricia Rose
From its beginnings in hip hop culture, the dense rhythms and aggressive lyrics of rap music have made it a provocative fixture on the American cultural landscape. In Black Noise: Rap Music and Black Culture in Contemporary America, Tricia Rose, described by the New York Times as a "hip hop theorist," takes a comprehensive look at the lyrics, music, cultures, themes, and styles of this highly rhythmic, rhymed storytelling and grapples with the most salient issues and debates that surround it. 
Professor of Africana Studies at Brown University, Tricia Rose sorts through rap's multiple voices by exploring its underlying urban cultural politics and discusses rap as a unique musical form in which traditional African-based oral traditions fuse with cutting-edge music technologies. Next she takes up rap's racial politics, its sharp criticisms of the police and the government, and the responses of those institutions. Rose observes, rap music remains a vibrant force with its own aesthetic, "a noisy and powerful element of contemporary American popular culture which continues to draw a great deal of attention to itself."
Special Guests Include:
Jason "PyInfamous" Thompson
Brad "Kamikaze" Franklin
DJ George "Chuck" Patterson
Shawn Hughes, Actor/Musician
Music and Performance will be provided at 5:30 pm by
"Authentic"
Please join us for this discussion on Thursday, October 24, 2013 at 5:30 p.m. for the first installment of the 2013-2014 JSU Reading Community at Fannie Lou Hamer Institute @ COFO,  1017 John R. Lynch Street, Jackson, Mississippi on the campus of Jackson State University.
Free Food will be provided
For more information or if you have any questions regarding the series, please feel free to contact us at 601-979-1562 or 601-979-1563 or www.jsums.edu/HamerInstitute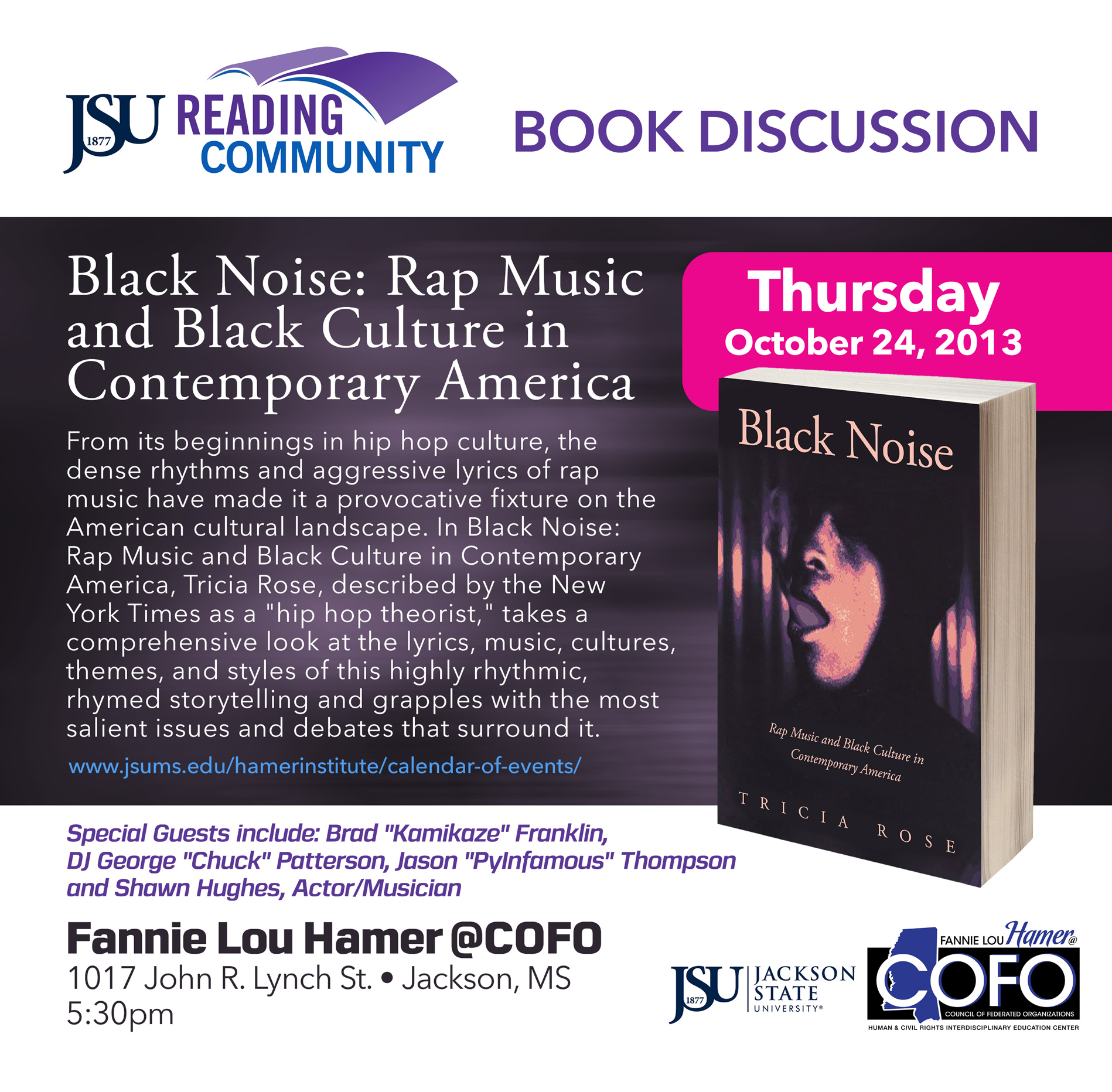 When & Where

COFO Civil Rights Education Center

Jackson, MS


Thursday, October 24, 2013 from 5:30 PM to 8:00 PM (CDT)
Add to my calendar