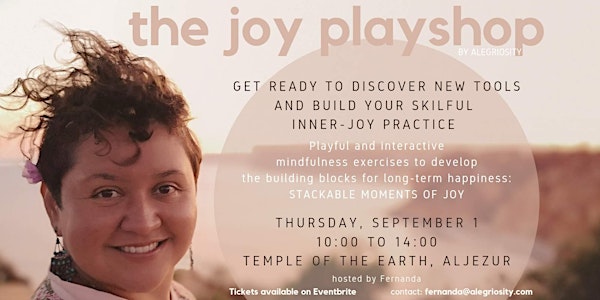 The Joy Playshop
We will embark on a playful journey into mindfulness to develop the building blocks for long-term happiness: stackable moments of joy.
When and where
Location
Temple of the Earth 455M Cx Postal 8670-052 Aljezur Portugal
Refund Policy
Refunds up to 1 day before event
About this event
THE JOY PLAYSHOP
☀Playful and interactive mindfulness exercises to access everyday JOY and build the foundation for long-term happiness
☀Get ready to discover new tools and build your own skilful INNER-JOY practice.
☀️The Joy Playshop takes a playful approach to mindfulness to develop the building blocks for long-term happiness: STACKABLE MOMENTS OF JOY.️
We are so desperate about being happy but often struggle with feeling thoroughly alive. We seek happiness in the outer world, so we are constantly DOING: seeking, chasing, distracting, and keeping busy –all the while feeling a little (or a lot) numb inside.
And the cycle goes on… More and more doing so we can feel alive.
🌱At The Joy Playshop, we take a mindful approach to JOY, we focus on BEING: being with ourselves in the wholeness of our human experience –in our boredom AND excitement, in sickness AND in health, in our pain AND pleasure. Through joy, we move from doing into being. Cultivating a state which is conducive to sustainable, long-term happiness: we move from chasing thrills and the next dopamine hit, to harvesting the joy from our peaks and nurturing it during our valleys.
During this 4-hour playshop, we will unlock the secret to long-term happiness through an embodied approach to accessing more moments of joy throughout everyday life. Inspired by Buddhist teachings and practices, participants will be joyfully empowered through a series of fun, heart-centred exercises that focus on playfulness, flow, and connection.
By the end of The Joy Playshop, participants will have upgraded their skillset for tapping into their inner infinite source of joy, independent of outer circumstances –embodying and understanding that "Joy leads to Happiness, Happiness leads to Success" ✨🚀.
The Joy Playshop will lead you to:
A lifelong ability to source and harness joy at will.
Higher levels of happiness.
Building your own skilful inner-joy daily practice.
Deeper connection with yourself and the present moment.
Controlling and managing negative thought spirals.
An increase in gratitude, loving-kindness, calm, charisma, compassion, inner peace, kindness, confidence, self-awareness, well-being, creativity, emotional resilience, humour, courage, success, and the list goes on and on!
Happiness Analytics - What you track, you can hack!
Open to all levels of mindfulness practitioners. Beginners are encouraged and welcome!
>>> Please come in cosy, comfy clothes. You're welcome to bring your journal and snacks <<<
📅 Thursday, September 1st
⏳ 10:00 – 14:00
Doors open at 9:45
📍 We will come together in a beautiful Mongolian yurt at The Temple of the (H)Earth in Aljezur, an inspiring womb in nature for healing, embodiment & empowerment to come home in your heart and soul.
🎫 Participation: 44€
Limited spots. Please book your ticket here on Eventbrite.
📧 Contact: fernanda@alegriosity.com
Would you love to join but cannot afford the participation fee in full? Reach out via e-mail. We will be joyful to make this happen for you! 🤗
See you there, see you soon!! ✨