Description
THE JOY OF TRUE MEDITATION: DISCOVERING AN EFFORTLESS SELF-LOVE
A Day-Long Retreat with UK author/teacher Jeff Foster
At beautiful Meditation Mount, Ojai
"You do not heal thoughts and feelings,
they heal you, when you allow them
to guide you back
to your original Wholeness,
your loving nature,
your breath,
your place on this Earth..."
- Jeff Foster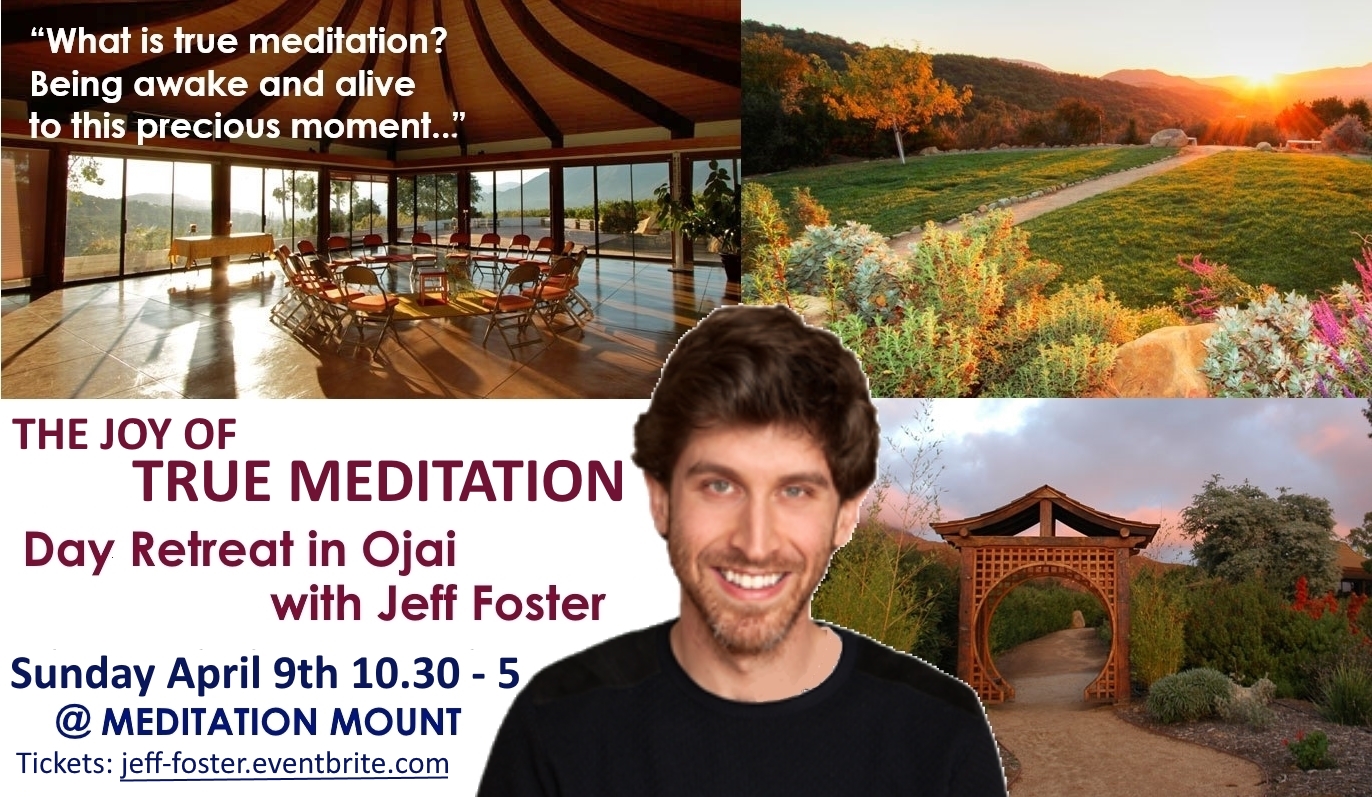 Weary travellers, come and rest with us for a day at the lovely Meditation Mount!
"Stop trying to heal yourself, fix yourself, even awaken yourself. Let go of letting go. Instead, bow deeply to yourself as you actually are. Be here. Honour the present scene in the movie of your life. Your pain, your sorrow, your doubts, your deepest longings, your fearful thoughts, are not mistakes, and they aren't asking to be healed. They are asking to be held. Here, now, lightly, in the loving arms of present awareness…" – Jeff Foster
Jeff shares a radically inclusive form of mindfulness - that of the present moment as a raw and wild teacher, sometimes painful but ultimately trustable. Using language like paint on a canvas, with both light-heartedness and precision, he shares from the depths of his experience, stripping away every defence of the mind, leaving us with nothing but the simplicity and wonder of our very own presence.
Through talks, intimate dialogues, guided meditations and restful silences, Jeff invites us to stop trying to heal, awaken or fix ourselves, and instead to slow down, breathe, and sink into a field of radical permission. This down-to-earth invitation leaves us with nowhere to go and nothing to become. It is disorienting but ultimately exhilarating, to be so deeply in the Now … and discover that we actually are the Now! What a joy and relief to realize that our true home, our deepest sense of belonging, has been right here all along, embedded in each and every precious moment, the only moment we have.
If you are tired of the seeking, exhausted from the struggle, and longing for life's sweet embrace … then welcome to The Way Of Rest!
This is not a self-help or therapy group, but an invitation to be deeply present with yourself and others.
We look forward to seeing you in Ojai!
************************
ABOUT THE DAY – PLEASE READ!
Meditation Mount is a remarkable place of peace and beauty. It is a sacred site on 32 acres of land at the east end of the Ojai Valley in Southern California.
Please arrive in the Auditorium for a 10.30 am start. There will be a lunch break in the afternoon, so feel free to bring your own lunch and eat on the beautiful grounds, or it's a short drive into town to enjoy the culinary delights of Ojai...
No need to print your ticket – we will have a list of names at the door.
If you are able, please carpool! There are limited parking spaces up the mount.
If you turn up on the day without a ticket, please bring cash. We cannot accept checks/cards.
Directions to Meditation Mount:
https://meditationmount.org/visit/
More information on visiting Ojai:
https://meditationmount.org/resources-in-ojai/
Please feel free to email the organizer at jefffosterevents@gmail.com with any questions.
************************
"What is true meditation?
Being awake and alive to this precious moment."
– Jeff Foster
**********************
WHAT PARTICIPANTS HAVE SAID...
"Jeff shows us how to meet everything and to turn toward instead of away from Life… He has no lineage, so he has no spiritual guru baggage to carry around. His meetings are just raw, naked, unconditional love…" – R.P.
"Jeff in his person and in his teaching is absolutely genuine, consistent, humble, gentle and real." – C.T.
"With unshakable patience and softness, Jeff approaches all questions with a completely un-rushed and peaceful style, always searching to find the most skillful words that can capture his thought and best be conveyed. In truth, Jeff's teachings are alive…" – W.R.
"Jeff's message is a relief for seekers who are tired of chasing dreams, and a true calling to re-examine what's present in our lives and find out if we don't already have exactly what we are looking for." – P.L.