The Joy of Stats: Investigating & Presenting Data (#NENgage Workshop 6)
When and where
Location
Stockbridge Library 11 Hamilton Place Edinburgh EH3 5BA United Kingdom
Description
The Joy of Stats: Investigating and presenting Data
Welcome to the forth community media workshop hosted by the North Edinburgh News.
This workshop will show you were to find useful local data. We'll help you turn data into stories and show you examples of websites that are all about sharing data for the public good. We'll cover different ways to presen statistics, how to request information through the Freedom of Informtion Act and how to collect data using polls and survey monkey. It's time to enjoy stats and present data in the most effective and engaging way.
This workshop is for community groups and active citizens who live or work in the Inverleith Neighbourhood Partnership.
What should I bring?
Bring your library card, laptop and smartphone if you have them. Don't worry if you don't - we have spares.
Who will be there?
The workshop will be delivered by Tom Allan and Emily Dodd. Tom is a Multimedia Journalist with a focus on the environment, social issues and community. He has worked for the BBC, the Guardian, FSRN, PRI, and Leith FM. Emily is a writer, scientist and educator with a passion for communication and storytelling. She writes for the BBC, National Museums of Scotland and local environmental charity Greener Leith
North Edinburgh News Reporter Dave Pickering will be attending the workshop along with a team of experienced volunteers and local experts.
We'll make sure you are supported to progress at your own pace and we'll do our best to get all of your questions answered. You'll get to meet other participants from your community too.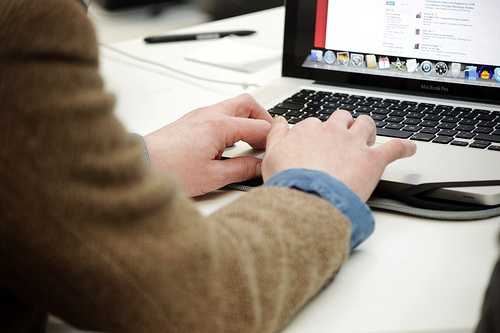 We look forward to meeting you and invite you to join us in the Antiquary Bar afterwards for a drink and free buffet!
Places are free but limited, book early to avoid disappointment. Fill in the ticket registration above to book a place.
This is the forth NENgage workshop hosted by the North Edinburgh News. Check out the rest of the workshops:
30th Aug / 6th Sep: Sharing Your Story: An Introduction to Blogging
This workshop will introduce you to blogging. We'll cover social media tools like Facebook and Twitter to help you to reach beyond your usual audience and effectively share your stories and ideas. The worshop will give you a practical introduction to the tools on offer and demonstrate how interacting, networking and sharing is the key to online success.
Read more and book 30th Aug here or 6th Sep here.
13th September: Video Blogging Flash Mob: Inverleith Stories
This relaxed informal workshop will introduce you to video blogging as an exciting, fun and easy way to tell a story and gather opinions.
We'll hit the streets of Inverleith in small groups to collect opinions on local issues. Before that we'll help you to plan questions, set up shots and get great sound. When you come back we'll help you to upload, edit and share your video content quickly and easily.
Read more and book here.
27th September: Building an online community
Social media is just that - social. And yet so many people think that once they have posted a story online, that's the job done. In this session, we encourage you to think about how you could interact with local groups and individuals to have a greater impact online.
Read more and book here.
1st Nov September: The Joy of Stats - Investigating and Presenting Data Read more and book here.
These workshop are funded by the Edinburgh Neighbourhood Community Grants Fund.