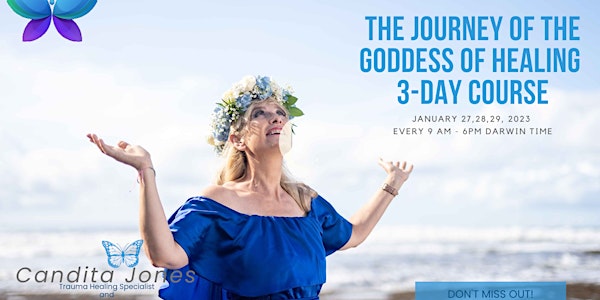 The Journey of The Goddess of Healing 3-Day Course
Refund Policy
Contact the organiser to request a refund.
Eventbrite's fee is nonrefundable.
About this event
🗣️𝐒𝐭𝐚𝐫𝐭 𝐲𝐨𝐮𝐫 𝐡𝐞𝐚𝐥𝐢𝐧𝐠 𝐩𝐫𝐨𝐜𝐞𝐬𝐬 𝐛𝐲 𝐢𝐦𝐚𝐠𝐢𝐧𝐢𝐧𝐠 𝐭𝐡𝐞 𝐟𝐞𝐞𝐥𝐢𝐧𝐠𝐬 𝐲𝐨𝐮 𝐰𝐚𝐧𝐭 𝐭𝐨 𝐞𝐱𝐩𝐞𝐫𝐢𝐞𝐧𝐜𝐞. 𝐌𝐚𝐤𝐞 𝐚 𝐧𝐨𝐭𝐞 𝐨𝐟 𝐢𝐭 𝐨𝐫 𝐭𝐞𝐥𝐥 𝐬𝐨𝐦𝐞𝐨𝐧𝐞 𝐞𝐥𝐬𝐞. 𝐘𝐨𝐮 𝐜𝐨𝐮𝐥𝐝 𝐰𝐢𝐬𝐡 𝐭𝐨 𝐟𝐨𝐜𝐮𝐬 𝐨𝐧 𝐨𝐧𝐞 𝐨𝐫 𝐦𝐨𝐫𝐞 𝐨𝐟 𝐭𝐡𝐞 𝐟𝐨𝐥𝐥𝐨𝐰𝐢𝐧𝐠 𝐩𝐫𝐨𝐛𝐥𝐞𝐦𝐬 𝐭𝐡𝐚𝐭 𝐲𝐨𝐮 𝐚𝐫𝐞 𝐚𝐰𝐚𝐫𝐞 𝐰𝐨𝐮𝐥𝐝 𝐦𝐚𝐤𝐞 𝐲𝐨𝐮 𝐟𝐞𝐞𝐥 𝐛𝐞𝐭𝐭𝐞𝐫 𝐢𝐧 𝐨𝐫𝐝𝐞𝐫 𝐭𝐨 𝐞𝐧𝐜𝐨𝐮𝐫𝐚𝐠𝐞 𝐲𝐨𝐮𝐫 𝐨𝐰𝐧 𝐡𝐞𝐚𝐥𝐢𝐧𝐠.
👇𝐓𝐡𝐢𝐬 𝟑-𝐝𝐚𝐲 𝐜𝐨𝐮𝐫𝐬𝐞 𝐰𝐢𝐥𝐥 𝐡𝐞𝐥𝐩 𝐲𝐨𝐮:
✅𝐑𝐞𝐦𝐨𝐯𝐞 𝐩𝐨𝐬𝐭-𝐭𝐫𝐚𝐮𝐦𝐚𝐭𝐢𝐜 𝐬𝐭𝐫𝐞𝐬𝐬 𝐝𝐢𝐬𝐨𝐫𝐝𝐞𝐫 𝐭𝐫𝐢𝐠𝐠𝐞𝐫𝐬 𝐚𝐧𝐝 𝐬𝐲𝐦𝐩𝐭𝐨𝐦𝐬 (𝐏𝐓𝐒𝐃).
✅𝐈𝐦𝐩𝐫𝐨𝐯𝐞 𝐢𝐧𝐭𝐞𝐫𝐩𝐞𝐫𝐬𝐨𝐧𝐚𝐥 𝐫𝐞𝐥𝐚𝐭𝐢𝐨𝐧𝐬𝐡𝐢𝐩𝐬 𝐚𝐧𝐝 𝐜𝐨𝐧𝐧𝐞𝐜𝐭𝐢𝐨𝐧𝐬.
✅𝐋𝐞𝐚𝐫𝐧 𝐡𝐨𝐰 𝐭𝐨 𝐜𝐨𝐩𝐞 𝐰𝐢𝐭𝐡 𝐝𝐢𝐬𝐭𝐨𝐫𝐭𝐞𝐝 𝐨𝐫 𝐧𝐞𝐠𝐚𝐭𝐢𝐯𝐞 𝐭𝐡𝐨𝐮𝐠𝐡𝐭𝐬 𝐚𝐧𝐝 𝐟𝐞𝐞𝐥𝐢𝐧𝐠𝐬.
✅𝐑𝐞𝐝𝐮𝐜𝐞 𝐢𝐫𝐫𝐢𝐭𝐚𝐛𝐢𝐥𝐢𝐭𝐲, 𝐟𝐫𝐮𝐬𝐭𝐫𝐚𝐭𝐢𝐨𝐧, 𝐚𝐧𝐝 𝐚𝐧𝐠𝐞𝐫 𝐰𝐡𝐢𝐥𝐞 𝐢𝐧𝐜𝐫𝐞𝐚𝐬𝐢𝐧𝐠 𝐦𝐞𝐧𝐭𝐚𝐥 𝐜𝐥𝐚𝐫𝐢𝐭𝐲.
✅𝐑𝐞𝐟𝐫𝐚𝐦𝐢𝐧𝐠 𝐚𝐧𝐝 𝐦𝐚𝐤𝐢𝐧𝐠 𝐬𝐞𝐧𝐬𝐞 𝐨𝐟 𝐚 𝐭𝐫𝐚𝐮𝐦𝐚𝐭𝐢𝐜 𝐞𝐱𝐩𝐞𝐫𝐢𝐞𝐧𝐜𝐞.
𝗔𝗿𝗲 𝘆𝗼𝘂 𝘀𝗶𝗰𝗸 𝗮𝗻𝗱 𝘁𝗶𝗿𝗲𝗱 𝗼𝗳 𝗺𝗮𝗸𝗶𝗻𝗴 𝘁𝗵𝗲 𝘀𝗮𝗺𝗲 𝗺𝗶𝘀𝘁𝗮𝗸𝗲𝘀? 𝗔𝗿𝗲 𝘆𝗼𝘂 𝗰𝗮𝘂𝗴𝗵𝘁 𝗶𝗻 𝗮 𝗹𝗼𝗼𝗽? 𝗜𝗳 𝘆𝗼𝘂 𝘄𝗮𝗻𝘁 𝗶𝗻𝘀𝘁𝗮𝗻𝘁 𝗹𝗮𝘀𝘁𝗶𝗻𝗴 𝗿𝗲𝘀𝘂𝗹𝘁𝘀 𝗱𝗼 𝗻𝗼𝘁 𝗺𝗶𝘀𝘀 𝘁𝗵𝗶𝘀 𝗳𝘂𝗹𝗹𝘆 𝗶𝗺𝗺𝗲𝗿𝘀𝗶𝘃𝗲 𝟯-𝗱𝗮𝘆 𝘄𝗼𝗿𝗸𝘀𝗵𝗼𝗽 𝘁𝗵𝗮𝘁 𝗶𝘀 𝗹𝗶𝗳𝗲 𝗰𝗵𝗮𝗻𝗴𝗶𝗻𝗴. 𝗣𝘂𝘁 𝘆𝗼𝘂𝗿 𝗱𝗲𝗺𝗼𝗻𝘀 𝘁𝗼 𝗯𝗲𝗱 𝗳𝗼𝗿𝗲𝘃𝗲𝗿 𝘄𝗶𝘁𝗵 𝘁𝗵𝗶𝘀 𝟯 𝗱𝗮𝘆 𝗶𝗻𝗻𝗲𝗿 𝘄𝗼𝗿𝗸𝘀𝗵𝗼𝗽 𝘁𝗵𝗮𝘁 𝘄𝗼𝗿𝗸𝘀 𝗱𝗲𝗲𝗽𝗹𝘆 𝘄𝗶𝘁𝗵𝗶𝗻 𝘆𝗼𝘂𝗿 𝘀𝗼𝘂𝗹 𝗮𝘀 𝘄𝗲𝗹𝗹 𝗮𝘀 𝗼𝗻 𝗮 𝗰𝗲𝗹𝗹𝘂𝗹𝗮𝗿 𝗹𝗲𝘃𝗲𝗹 𝗵𝗲𝗹𝗽𝗶𝗻𝗴 𝗶𝗻 𝘁𝗵𝗲 𝗱𝗲𝗲𝗽 𝗶𝗻𝘁𝗲𝗴𝗿𝗮𝘁𝗶𝗼𝗻 𝗼𝗳 𝗮𝗹𝗹 𝘁𝗵𝗲 𝗵𝗲𝗮𝗹𝗶𝗻𝗴.
🍷Come join 𝐓𝐇𝐄 𝐉𝐎𝐔𝐑𝐍𝐄𝐘 𝐎𝐅 𝐓𝐇𝐄 𝐆𝐎𝐃𝐃𝐄𝐒𝐒 𝐎𝐅 𝐇𝐄𝐀𝐋𝐈𝐍𝐆 𝟑-𝐃𝐀𝐘 𝐂𝐎𝐔𝐑𝐒𝐄
✨𝑺𝒆𝒆 𝒚𝒐𝒖 𝒕𝒉𝒆𝒓𝒆!