Description
Hello and welcome to The Joshua Tree Experiential ARTS and WRITING Retreat! We invite you to attend this weekend of desert workshops featuring bonfire readings by RUTH NOLAN and L.I. HENLEY and curated by two multimedia writers/artists and friends, Sean Negus and Ariel Fintushel, who met during their MFA at SF State and now teach in San Francisco and Los Angeles respectively, at colleges and elsewhere. The retreat mission is: generate new work; form a transient community of artists; and meet at the intersection of creative praxis and natural landscape. Workshops include Altered States and Psycho-Spiritual Legacies of the Desert, Desert Alchemy and Wabi Sabi at 49 Palms Oasis, and more. Work created during the retreat can be submitted for consideration in a hand-made desert anthology.
Location : Workshops take place at 4815 Meriwether Rd, Twentynine Palms, CA 92277 and at 49 Palms Oasis in Joshua Tree National Park.
Contact : retreatjoshuatree@gmail.com for more information
Website : http://joshuatree.transpoiesis.com/
Statement on Inclusivity/Safe Space: This retreat and its facilitators strive to make this experience an inclusive and safe one for people of all identities, backgrounds, experiences and aesthetic orientations. We will work to meet requests for reasonable accommodations made in advance.
Facilitators :
Sean Negus is a San Francisco-based poet, experimental writer and sometime digital/visual artist working in video, web design, and other mediums. He teaches composition, literature and critical thinking at San Francisco State University and Foothill College. Writing of his appears in WebConjunctions, Poecology, DUSIE, Otoliths, TINGE, and Beatdom. A videopoem of his, Recursionem Solaris, was selected for the Athens International Video Poetry Film Festival in 2016. In addition, he is co/guest editing an issue of contemporary Brazilian poetry for DUSIE for release later this year.
Ariel Fintushel is a Los Angeles poet working as the Curriculum Developer for the non-profit Women's Voices Now. She runs a creative writing workshop called Films & Poetry at Turning Point Shelter in Santa Monica, and has previously taught at SF State, Borough of Manhattan Community College, Oxnard College, The American Musical & Dance Academy, and is a creative writing instructor for California Poets in the Schools. She has an MFA from SF State. Her writing has been published by Huffington Post, Zaum, Baltimore University's Welter, The A3 Review, and elsewhere. She enjoys making audio and also illustrated poems and is interested in the desert as a place of deprivation and miracles, latent energy, adventure, malice, and mysticism.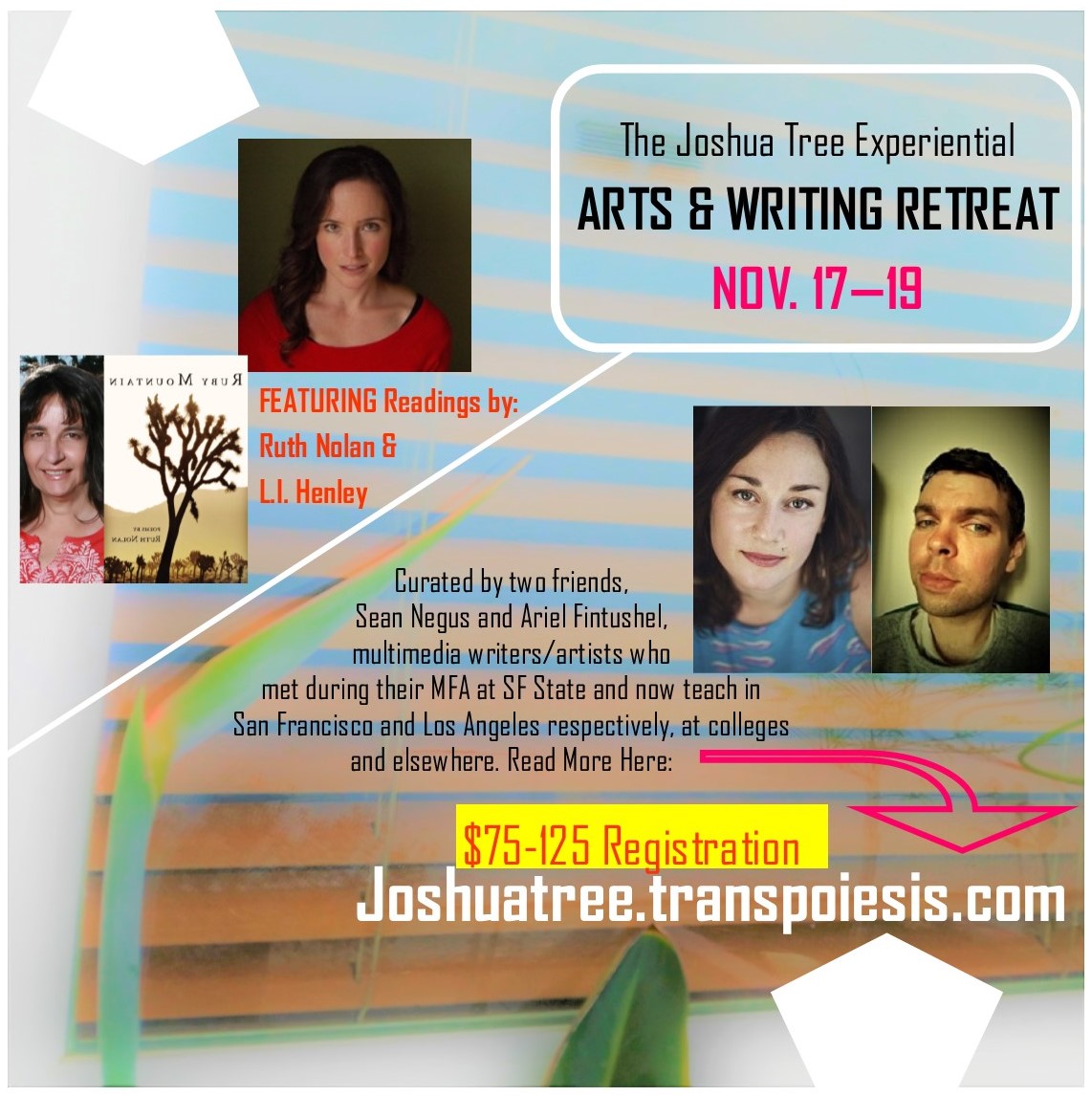 Workshop Schedule
Nov. 17
6:00pm-7:00pm Arrive, Gather, and Meet, Drinks and Food Grilled on Site
7:00pm-8:00pm Retreat Orientation, Review Itinerary, Questions and Answers
8:00-9:30pm Desert Initiation Workshop, Opening the Circle, Intention Setting and Creative Goals
Nov. 18
7:00am-9:00am Breakfast, Open Period *period for creative council with facilitators and generation of work, exploration of ideas and places, reading, or other engagements with the environment
9:00am-10:30am Commun(e)ication: Ontopoetics and Dialoguing with Place (Sean)
10:30am-12:00pm Open Period
12:00pm-1:00pm High Noon Ceremony (Ariel)
1:00pm-3:00pm Lunch and Open Period *Commute to 49 Palms Oasis Site for Following Workshops
3:00pm-4:30pm Eco-Consciousness and Creative Praxis: Engaging the Web (Sean)
4:30pm-6:00pm Desert Alchemy and Wabi Sabi at 49 Palms Oasis (Ariel)
6:00-8:30pm Exploring Locales, Dinner, and Open Period
8:30pm-9:00pm Process Discussion: This time can be used for participants to share ideas, explore insights or questions from the workshops
9:00pm-10:00pmBonfire Reading, Local Myths, and Histories of Joshua Tree (Featured Readers)
10:00pm-11:00pm Altered States and Psycho-Spiritual Legacies of the Desert (Sean)
Nov. 19
8:30am-9:30am Transhistorical and Cultural Geographies as Source (Sean)
9:30am-11:00am Open Period
11:00am-12:30pm Geologic Formations as Muse: Rectangular Joints and Memory Distillation (Ariel)

12:30pm-1:30pm Lunch
2:00pm-3:00pm Closing Ceremony
http://joshuatree.transpoiesis.com/