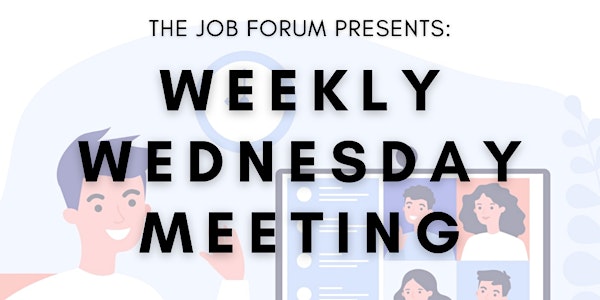 Multiple dates
The Job Forum - Weekly Wednesday Meeting: Free Job Search & Career Advice
The Job Forum wants to help you take your next best step in your job search! Join us every Wednesday!
By The Job Forum, sponsored by SF Chamber of Commerce
Date and time
May 6, 2020 · 6:30pm - December 13 · 8pm PDT
About this event
Every Wednesday night from 6:00 to 8:00pm, a rotating panel of experts from a variety of Bay Area companies convene in a virtual meeting to help YOU with your job search. We are a nonprofit organization sponsored by The San Francisco Chamber of Commerce, and we are here to help!
Job seeking can be hard and stressful. We know sometimes you just have questions and want real advice. Our staff of professional volunteers will spend the time to understand you and help you take the next steps in your job search.
Each Wednesday, we have a rotating panel of three experts in their respective fields. Though the specific industry of the panelist may not be your own, there is plenty of valuable information that can be taken from each meeting. Anyone who joins our virtual meeting will get a chance to speak to these advisors and get insight on questions they might have. You now have the option of submitting your resumes and LinkedIn profiles for instant feedback.
• Each attendee gets a turn. While you are waiting for your turn, you get to hear the advice and practical suggestions given to other attendees and apply them to your own situation. As an open forum to all participants, you can also make suggestions to other participants.
• When it is your turn, you share a brief summary of your current situation, goals, and what you need help with. You can tell us whatever special circumstances or frustrating responses you are encountering as you look for your next job.
• The panel asks questions and shares ideas, feedback, and resources that can help you focus your job search efforts and prioritize your next steps.
This week - NEW PRIZE DRAWING!
This week, The Job Forum will be holding a drawing with two fantastic prizes! A winner will be drawn from the people who sign up and ATTEND the meeting. You MUST be present to win. The prizes are a free 30-min 1-On-1 Advising session with one of our career advisors or a copy of "Give Yourself A Nudge: How Smart People Make Smarter Personal Business Decisions," by Ralph L. Keeney.
The winner will be announced at the end of the meeting, so make sure you sign up, attend, and stay until the end!
** If you are the winner, YOU MUST give us your email in the chat so we can contact you. A couple people have won and were not registered through Eventbrite, or possibly go by another name, so YOU MUST tell us how to contact you.
How to sign up:
REGISTER on EventBrite: https://thejobforumwednesdays.eventbrite.com
Register here via Eventbrite.
24 hours in advance, as well as 2 hours in advance of event, you will receive an email containing a link and password, allowing you to join The Job Forum via Zoom.
We have limited attendance and many job hunters who want customized input for their job search, so please sign up only if you are truly going to attend and participate for the whole 2 hours.
Please be no more than 15 minutes late. We do close the meeting and cannot allow late-comers to join.
Since we're trying to stay connected despite social isolation, we will have our cameras on. Please join us on camera if possible.
Again, the sharing of resumes and profiles on select days is optional and is not required if you do not feeling comfortable doing so. The files or links will be submitted to and shared by the panelists only. Any file or link will be shared with the group, so if you do not decide to submit your own, you can still gain valuable information from someone else's submission.
About the Job Forum:
The Job Forum is a San Francisco non profit that has been helping job hunters conduct a successful job search for decades. We are sponsored by the SF Chamber of Commerce and with support from LinkedIn. Our volunteers are SF Bay Area managers from companies large, medium and small. We offer free sessions every Wednesday night and additional Thursday night panels and workshops that focus on specific industries or skill building opportunities. See our full list of events here: https://www.eventbrite.com/o/the-job-forum-sponsored-by-the-sf-chamber-3906848837
Come and benefit from our efforts to help you land your next job.
By signing up through Eventbrite, you are agreeing to receive future newsletters from The Job Forum.
About the organizer
The Job Forum aims to help people help themselves in their job search. Our approach is focused on intelligently planning and conducting the job finding campaign. We offer customized brainstorming and problem-solving to job seekers.