The JetSet ...a Resort-Style Day Party @ Renaissance at Plano Legacy West Hotel
About this event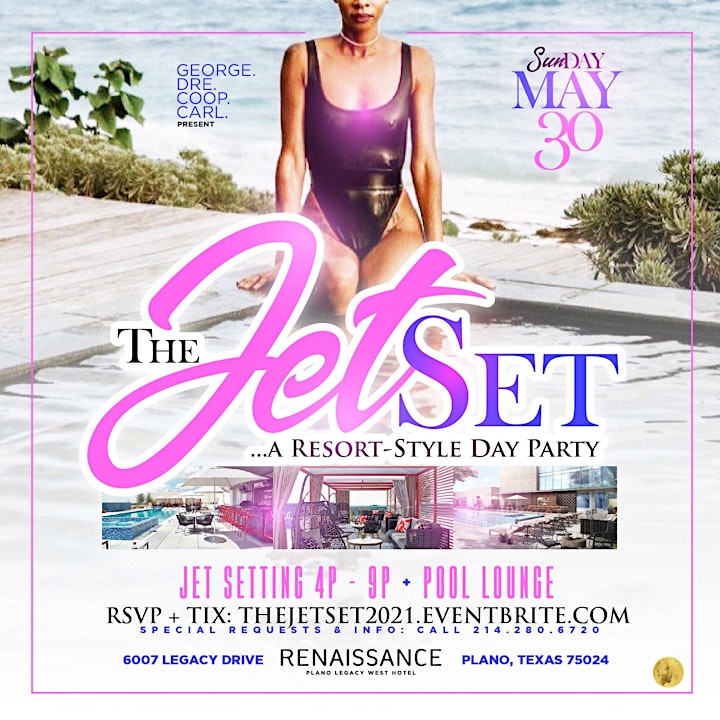 SunDAY//MAY.30
The JetSet
...a Resort-Style Day Party
* The Socially Astute Anniversary Party *
@
Renaissance at Plano Legacy West Hotel
6007 Legacy Drive
Plano, TX 75024
4pm-9pm
We are bringing the energy & cool-sexy vibes of resort day parties from LA and Miami to Plano at the luxurious Renaissance Dallas Legacy West Hotel.
It's a "best cocktails, good music, great views and a pretty lady/handsome gentleman kinda day"...guaranteed to be a high point of your weekend plans!
Soundtrack by some of DFW's best DJs
//SOHO Lounge::4pm-5pm::SOul + HOuse...
Escape the noise & crowds of the events with just the right soundtrack for your Sunday "chillmode".
//JetSetting::5pm-9pm
Featuring sexy sounds from Coast to Coast...East coast to west coast, to down to the border where the south plays...the classics & your favorites.
//Attire:
Comfortably cool, fashionable, chic & smart. This event is for mature audiences only. So please, dress accordingly.
//Enjoy::..
* Drinks specials.
+ Pool terrace
+ Discounted admission before 5pm w/RSVP @ TheJetSet2021.eventbrite.com
For more info & special requests, call Michael Cooper: 214-280-6720.
//Brought to you by//
Carl + J. + George + Coop