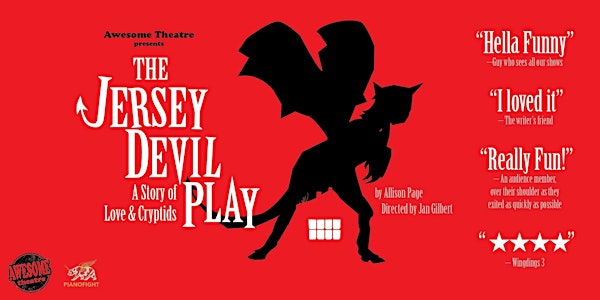 The Jersey Devil Play (on Film)
"The Jersey Devil Play" was performed for a live audience, and it was awesome, and we filmed it. On December 17, you can come watch it.
When and where
Location
PianoFight Second Stage 144 Taylor St San Francisco, CA 94102
Refund Policy
Contact the organizer to request a refund.
About this event
Let's watch a movie, that's actually a play that we filmed, and made it into a movie. Just come hang out with us, ok?
On October 29 & 30, "The Jersey Devil Play" was performed in front of an actual live audience, and it was awesome, and we filmed it. These two performances have been put together into a gorgeous filmed presentation. On December 17, you can come watch it on a (fairly) big screen in a room full of masked and vaccinated people.
The devil's in the details — and their house.
Abby and Norman Kristoff have impulsively moved away from their steady lives in Sacramento to a cabin in Moorestown, New Jersey, sight unseen. Thankfully, the quirky locals know everything there is to know: where to eat, what to do, and who's had a run-in with the Jersey Devil, a centuries-old horse-headed beast with hooves, claws, bat wings, and a bad attitude. The Kristoff's invested everything they have into their new home and they'll fight for it, tooth and nail. And they'll need everything they've got because when the devil comes knocking, he rarely comes alone.
Featuring: Isabel Anne To, Sam Bertken, Alicia Stamps, Michelle Peck, Edwin Jacobs, and Meghann Hayes
Artistic and Production Staff: Sarahi Arellano, Jan Gilbert, Jess Thomas, Kelli Westad, Sara Saavedra, Kenna Lindsay, Zephaniah Bensaid, Claire Rice, and Anthony R. Miller
PIANOFIGHT'S COVID PROTOCOL
Each audience member must show proof of vaccination to enter PianoFight, no exceptions. Audience members must also wear their masks unless actively eating or drinking. We will comply with all local, state, and federal requirements in effect at time of show. We reserve the right to add additional requirements that we deem necessary to keep our staff, artists, and audiences safe.
PianoFight's not just a theater, it's also a restaurant and bar!
★★★★½ on Yelp★★★★½ on Google★★★★★ on Facebook
"Reasonably priced New American bites and cocktails in an unpretentious setting" - Zagat
"The best party spot in the neighborhood" - The Bay Bridged
"A hot SF scene" - SF Chronicle
If you plan on dining, we recommend you arrive 30 minutes early so you have plenty of time to eat before the show. Restaurant seating is first come first serve. Drinks and food are allowed in the theaters.
PARKING: Street parking is free after 6pm. We're located 2 blocks from Powell BART, numerous muni lines and there are 3 parking lots within 1 block.
ACCESSIBILITY: PianoFight's restaurant, bar, and both theaters are fully ADA accessible.