About this Event
As part of our mission to promote the diffusion of good ideas, the Jefferson Education Exchange and the National Technology Leadership Summit are pleased to invite you to a happy hour for educators, researchers, entrepreneurs, philanthropists, and policy makers interested in edtech.
On Thursday, September 19th from 5:30 p.m. to 7:30 p.m., we will come together on a beautiful patio overlooking the White House atop Drexel University's DC Center. Please note a valid photo ID will be needed for entry.
If you are attending the National Technology Leadership Summit during the day and plan on coming to Happy Hour, then you are not required to register via Eventbrite.
This event is by invitation only. If you are interested in adding a friend or colleague to the guest list or if you have additional questions, please email Blake Bussie at info@jexuva.org.
Please RSVP by September 9th, 2019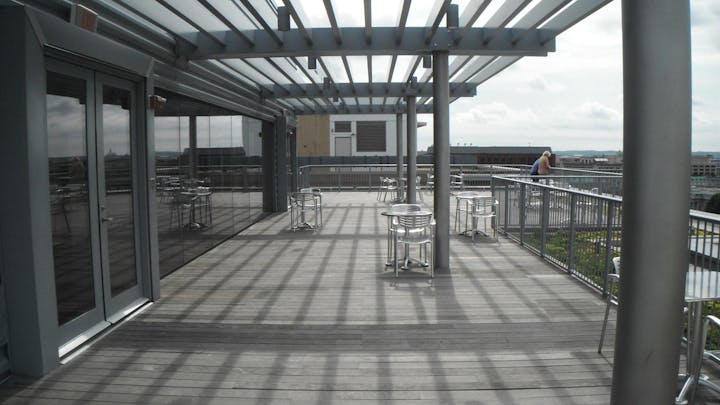 About the Jefferson Education Exchange
The Jefferson Education Exchange is a nonprofit organization committed to bringing educator perspectives to bear on edtech procurement and research. Supported by the University of Virginia's Curry School of Education and Human Development, its work centers on research and development to guide the design of research protocols and tools that will enable educators to document and share their experiences with education technology products. For more information, visit the Jefferson Education Exchange on Twitter, Facebook, Instagram, and LinkedIn.
##################################
About National Technology Leadership Summit
The National Technology Leadership Summit (NTLS) brings together national leaders from educational associations, as well as editors of educational technology journals, directors of non-profit foundations, federal policy makers, and corporate representatives.
Recommendations and guidelines emerging from the summit are published in a range of educational technology journals and are featured on the programs of educational conferences. The goal is to accelerate the meaningful impact of digital technologies in education for the 21st century.
##################################