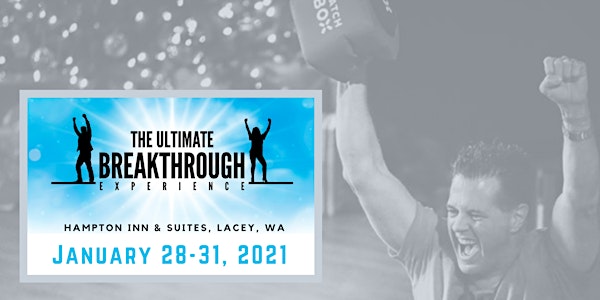 The January 2021 Ultimate Breakthrough Experience!
THE ULTIMATE BREAKTHROUGH EXPERIENCE is a 4 day life changing event that creates lasting change in your life.
When and where
Location
Hampton Inn & Suites Olympia Lacey 4301 Martin Way East Olympia, WA 98516
About this event
Design a Life of Adventure, Excitement, Prosperity and Happiness!
WHO SHOULD ATTEND THE ULTIMATE BREAKTHROUGH EXPERIENCE?
If you are a leader or want to become a leader this event is for you. This event has proven to be successful for entrepreneurs, sales people, coaches, marketers, CEOs, service professionals, executives and anyone that wants to adopt a truly abundant mindset.
WHAT YOU GET FROM THE ULTIMATE BREAKTHROUGH EXPERIENCE:
CREATE AN "ABUNDANT" MINDSET
An abundant mindset is one of infinite possibilities. Imagine, having the courage to unleash your true human potential and achieve your wildest dreams.
Many people do not realize that they are often times retreating to a "scarcity" mentality during times of stress. Scarcity limits brain function and destroys the ability to be creative and resourceful to overcome life's challenges.
Having a truly abundant mindset is the fastest path to more money, time and happiness. 
LEADERSHIP SKILLS
One common denominator among the most successful people in the world is that they are all leaders. We believe that leaders are "made" not "born."
Learning our leadership skills and techniques will help you live a purposeful and meaningful life.
INTEGRITY AND CORE VALUES TRAINING
Integrity is all about "keeping your word" to others and yourself. How many times has someone let you down when they told you they were going to do something, and they did not?
Moreover, when have you told yourself or others that you were going to do something and then did not.
Starting and stopping is a symptom of being out of integrity.
When you learn our integrity strategies and get in integrity with yourself, you will quickly find that many areas of your life will be in alignment.
ELIMINATED OUTDATED "LIMITING BELIEFS"
Whether you realize it or not you are limited by the beliefs. Some refer to this as the "glass ceiling."
We will help you identify what is holding you back and breakthrough to a truly abundant mindset.
You will let go of past limiting beliefs that are not serving you so that you experience more freedom & happiness.
CLARIFY AND STRETCH YOUR VISION
When you have a clear vision of where you want to go, you will find that you will be living with what we call: "Unstoppable Motivation."
Challenges that used to seem impossible will be reduced to minor speed bumps that you are able to easily glide over.
Our coaches and community will help you clarify your vision and stretch it to new heights. We will be creating a space of creativity and abundance so that you end up on the path that you are truly called to be on.
CREATE YOUR PERSONAL STRATEGIC PLAN AND ACCOUNTABILITY
Many events get you excited…we believe that it is not enough. We will equip you with a personal strategic plan and accountability to ensure that you achieve the success that you deserve.
Once you learn this skill, you will be able to use it month in and month out to increase your productivity and effectiveness.
Leaders work smart and hard to yield incredible results. Others will wonder how you did it.
NETWORKING & LIFELONG CONNECTIONS
You will be interacting in our 4-day intensive with like-minded individuals. Our attendees have created lifelong friendships and business relationships. This alone is worth your investment of time and money.
FAQs
Why is this event four days?  That seems like a really long time.  Can I attend part time?
Yes, you must attend all four days! Believe me I get it! With our busy lifestyles, it may seem impossible to attend an event like this for four days. However, this is precisely what this training is all about. If you allow excuses to get in your way for attending a three-day event, what will you allow to get in the way of your dreams?
How you do one thing in life is how you do everything in life. You can play it safe and stay where you are or take a stand for yourself and dramatically change your life. The choice is yours to make.
The four days will go by extremely fast, and you will not want this to end!  This is not a boring workshop!  
What can I bring into the event?
It is Recommended that you bring the following:
Snacks
Bagged Lunch and Dinner (if you'd like)
Sweater or Light Jacket (it will be cool in the room) 
How can I contact the organizer with any questions?
Yes, please contact Daryl Murrow at (360) 790-6245 with questions, or you can email him at info@murrowgroup.com. 
What's the refund policy?
I know you will love your experience at the Ultimate Breakthrough Experience. In fact, I will even guarantee it! Attend the full four-day event, participate in the exercises, and soak up the transformative experience.
If you are not delighted with what you have learned after the four days, let me know before you leave, and we will refund the entire cost of your tuition.
There are No Refunds allowed without attending the entire training.
I can't attend this event, but can you please notify me when the next event is scheduled?
Absolutely, we will be happy to add you to our list for the next event.