About this Event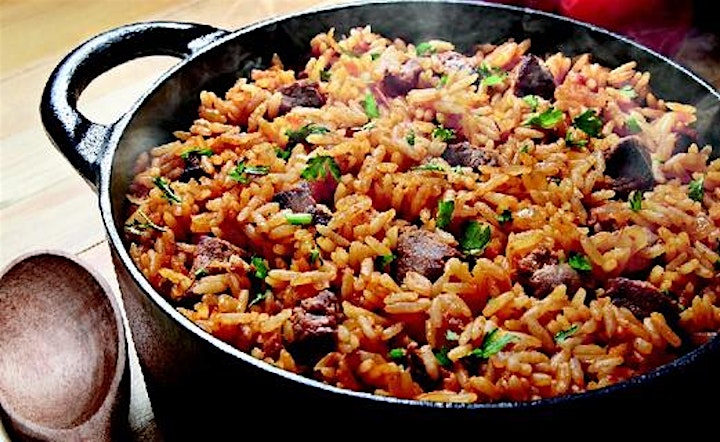 Information on Tickets for Guests: Tickets Go On Sale August 2019 . Sign up for a reminder.
Pipe Dreams Fundraising Services is hosting the DFW area Jambalaya & Jollof Rice Cook-Off on October 5, 2019 from 5pm-10pm at the Residence Inn by Marriott in Denton, Texas. A portion of the processed and gifts will be donated to Brown Girls Do Ballet®.
Chefs bring out your best, already made Jambalaya or Jollof Rice for an opportunity to win up to $1,000.00. This event will take place during the Head Wraps & Wine Festival in which participants will dress up with their finest cultural head wraps, enjoy your delicious rice dishes, drink wine, view art and bid at the silent auction.
Categories:
Judges Vote – Best Jambalaya - $500 Prize & Trophy
Judges Vote – Best Jollof Rice - $500 Prize & Trophy
People's Choice – Best Jambalaya – People's Choice Award
People's Choice – Best Jollof Rice – People's Choice Award
Registration Form:
Register here through Eventbrite to enter. Additional rules and required forms must be downloaded, signed and emailed back to complete registration. Food handler's license will be required for all food handlers working the booth.
Registration Fee Includes:
One 6 foot table with black linen
Two chairs
Entry into your specific category (Jambalaya OR Jollof Rice)
4oz sample containers and spoons for tasting to provide for 200 people
NOTE:
If you enter both categories you will receive two booth areas; one for each category. Tables will be next to each other.
Registration fees are non refundable and non transferable. No acceptions.
Registration Fee $100 DISCOUNT
$100 Discount for a donated gift basket to the silent auction for Brown Girls Do Ballet® with a minimum value of $75.00. Gift baskets must be received by Thursday, September 5, 2019 or additional $100.00 will be due. Use Promo Code: DiscountGift75 when paying your registration fee.
Teams:
Teams will consist of 1 chef cook and no more than 2 additional members. All team members are required to provide their food handlers license in order to work their booth.
Rules and Expectations
Teams should be prepared to provide 200 4 oz tasting size portions for the judges and guest.
Teams must provide Jambalaya OR Jollof Rice ready to serve in the proper chafing dishes with fuel and may include any extra sides (breads, proteins or condiments). Kitchens, equipment, electrical outlets and additional supplies will not be available (cooking on location nor cleaning supplies).
There is no limit or restriction on the type of protein used in your Jambalaya or Jollof Rice. The one requirement is: NO BONE IN MEAT. All meat must be boneless when serving. Teams with bones found in Jambalaya or Jollof Rice by the judges or staff will be disqualified and will not be able to compete for prizes.
Teams are required to provide a sign describing the type of protein used in their Jambalaya or Jollof Rice (i.e. chicken, sausage, shrimp, wild game, etc.).
Judges:
Judges will be local celebrities and chefs. This will not be a blind judging and team members' full presentation will be reviewed however, taste is the winning factor.
People's Choice Judging
Each Team must bring a decorated team ticket jar and place it on your table. Guest will get one coin for the Jambalaya and one coin for the Jollof Rice. The guest will drop any of their People Choice coins to whichever jar(s) they deem the best tasting Jambalaya or Jollof Rice. At the end of the competition, the team with the most coins will be announced the winner of the contest. People's Choice judging begins once open to the public and will end two hours before the event is over. Winners will be announced once voting is tabulated.