About this Event
The Jacks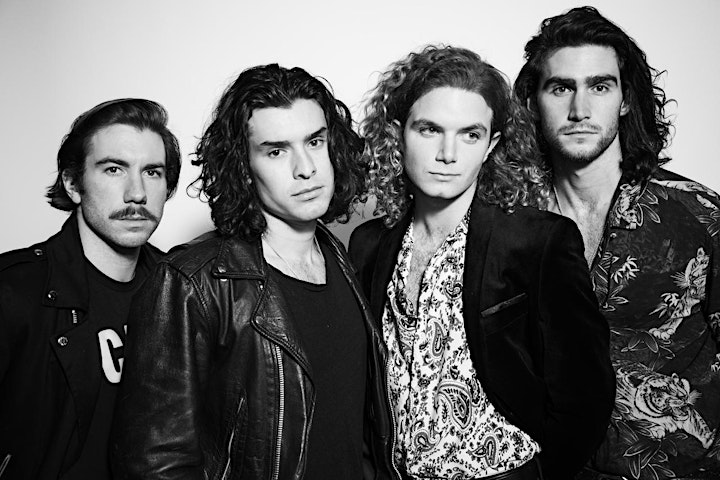 The Jacks stand by their claim, "We are not a rock band, we are a rock n' roll band." With a heavy influence from the British Invasion of the 1960s and 70s, The Jacks have developed a rare sound that is unruly, bold, and hard to be ignored - they won't settle with blending into the scene. While not trying to fix what isn't broken and pushing the boundaries for tomorrow, The Jacks consistently deliver fresh but timeless music.
From their live shows to their recording techniques, they keep integrity to who they are and how they believe their music should sound. The 4-piece doesn't hide behind backing tracks or auto-tune, what you hear is what you get.
With their new single "Hello My Friend," The Jacks are "holstering loads of promise, so it's time you gave them a listen, have the advantage of being able to shout 'I heard 'em before they got famous' when they crack the big time, and indulge in some great music." (One Stop Record Shop).
The Cuckoos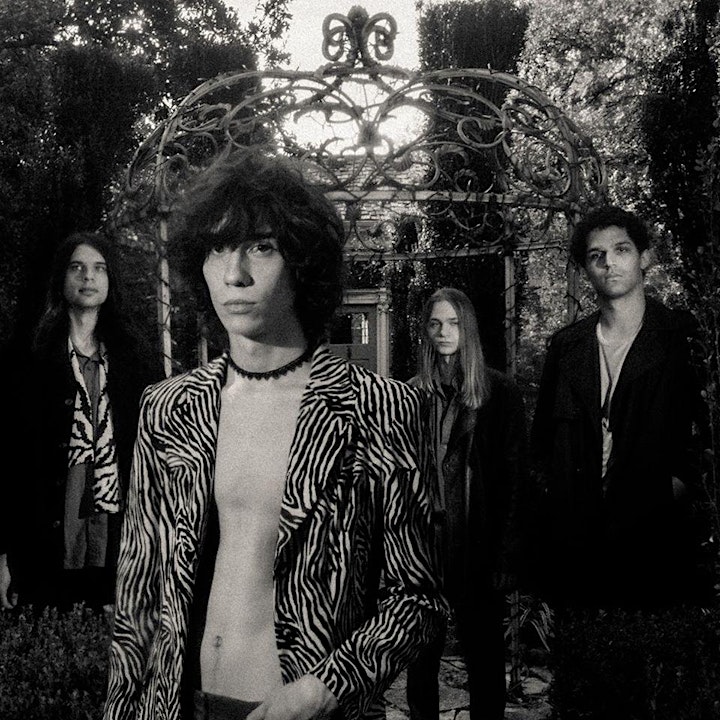 The bittersweet incandescent shimmer of The Cuckoos is deeply rooted in classic rock, dance club funk, and neo-psych art soul, earning the young Austin, Texas band a remarkable reputation in just a few short years. The swampy groove arising from the collision of New Wave romanticism, swirling experimentalism, and loud punky guitars is somehow as perfect as it was improbable, decisively demonstrated on record and stage.
I Hate Love, the band's debut album, is a musical manifesto. The diverse ten-song outing crackles with the electricity of The Cuckoos coming into their own. It's all a result of the combustible chemistry between Kenneth Frost, Dave North, Eric Ross, and Cole Koenning developed in New York, California, Mexico, the UK, and of course, the Lone Star State.
The band's first self-titled EP earned favorable comparisons to Tame Impala, Joy Division, and Pink Floyd, from esteemed publications like Classic Rock Magazine and Relix. I Hate Love is rooted in their primal psych-rock post-punk soul but broadens its scope. It's a new signature sound, one that will appeal equally to folks weaned on essential art-rock like Talking Heads and those attracted to retro-future acts like Uncle Acid and the Deadbeats.
I Hate Love was produced and mixed in Austin by Chris "Frenchie" Smith (…And You Will Know Us By The Trail Of Dead, The Toadies, Fastball) at the Grammy-nominated producer's studio, The Bubble, and mastered by Gavin Lurssen (Chris Cornell, Frank Zappa, Iggy Pop, Kid Cudi) and Reuben Cohen (Leon Russell, Dweezil Zappa, The Motels).
Album opener "Heartbreak Paradise" conjures the vibrant colors of Love and The Doors with shades of modern indie pop, with lyrics about a fantastical sanctuary for the newly uncoupled. The cinematic clip for "Why Don't U Ever Call Me Anymore?" (directed and edited by cinephile Frost) is something like The Lost Boys meets Evil Dead 2. It's fitting for the monster-mash-dark-dance of the song, which careens from the swampy funk of Rockwell or Morris Day and the Time to the incisive and cutting guitars of Kurt Cobain.
Music videos for pre-album release singles like "We Can Take a Trip to Another Day" and "Carpe Diem" only built the anticipation for the cheekily titled I Hate Love even further. Much of the album has what Frost half-jokingly describes as a "creepy Halloween vibe" musically, but lyrics explore the complications of relationships as they begin and end. Another single/video, "Lady Boy," by contrast, is about growing up in conservative Texas as a music lover and artist with a taste for genderbending fashion and hair. "It's a Shame," which closes the album, boasts an otherworldly glimmer and a disco-like punch.
Frost taught himself to play piano with John Lennon's "Imagine." His rich baritone evokes melancholic and romantic icons of different decades, from Jim Morrison to Ian Curtis, with a distinctly modern and forward-thinking flair. He's an avowed acolyte of Kate Bush, deeply connecting with the British singer's dedication to ethereal ambiance and vibe.
North immersed himself in the similarly lush if more aggressive sounds of The Pixies and Smashing Pumpkins, having cut his teeth as a young guitarist covering Green Day and Metallica. He shares Frost's love of psychedelia, with a passion for the croon of Nick Cave.
Cole Koenning fell in love with the drums when he was barely tall enough to climb up on the throne. A seasoned local player at a very young age, Koenning's diverse list of favorite albums includes classic slabs from Miles Davis, Rush, The Police, Gentle Giant, and Coltrane.
Much of the melody and note choice Eric Ross makes in The Cuckoos comes from his background as a metal guitar player. He fell in love with music at age 11 upon hearing Slayer, but the floodgates truly opened for him at 18, when jazz took the front seat. Switching from guitar to bass in The Cuckoos not only expanded his horizons further, but it allowed the band to evolve from their initial three-piece incarnation into the more fully realized unit they are today.
Despite their relative youth, these four are quickly amassing a body of work that's truly awe-inspiring, bravely laying down a definitive pathway of their own choosing as they go.
Whether it's a killer hook from a Steely Dan song, a rich groove from Vanilla Fudge, the exhaustive catalog Prince or David Bowie, or any number of funky jams from Rick James, George Clinton, The Time, and Funkadelic, the four young men of The Cuckoos are constantly soaking up new sounds, constantly adding songs to a shared group playlist.
Ultimately, the ten songs on I Hate Love are about connection. It all expands from the deep connections within the band and outward into the audience. "We just want to make music that makes people feel good and feel bad," Frost says in matter-of-fact fashion. "We just want them to feel something, something that is both passionate and honest."
Performers
Date and Time
Location
Refund Policy