Description
Pasta is a staple at an Italian meal; come learn how easy it is to make yourself!
In this class, we'll demonstrate a simple pasta dough recipe and discuss how you can customize the flavor using herbs or spices. You'll also learn different cutting techniques and tools you can use to shape your pasta.
Since no Italian pasta dish would be complete without sauce, we'll also discuss and sample some simple sauce options you can make at home.
Demonstration; tasting samples will be provided. Class is vegetarian-friendly and BYOB.
ABOUT THE INSTRUCTOR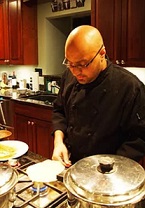 Ronak Patel is the owner, chef, and instructor of his own private dining company, Chef Ronak. He attended Le Cordon Bleu in Chicago and has worked for numerous catering companies including Chef Daniel Private Dining, Creme Catering, and Gourmet Gorilla. Ronak started teaching cooking classes at Peterson Garden Project Community Cooking School in July 2015, and he continues to share his knowledge about cooking and food in a diverse range of classes.