The Italian Retreat - A Week of Delicious Transformation for the Mind, Body & Senses

Sunday, October 18, 2015 at 10:00 AM

-

Saturday, October 24, 2015 at 4:00 PM (CEST)
Event Details
This is no ordinary Retreat.
THE ITALIAN RETREAT
A WEEK OF TRANSFORMATION FOR THE MIND, BODY & SENSES
For enquires please e-mail: Marilyn@tranceformationstm.com  or 
Is this your time to give the gift of time to yourself . . . . . .
Have you dreamt of having some time away to both relax and refresh your mind and body, as well as transform and rejuvenate your mind?

Would you like to spend a week in a beautiful region of Italy, with likeminded people, and surrounded by the beauty of unexplored parts of this incredible country?

Is transforming your mind and while having insider access to some of Pugglia's best kept secrets your idea of a little taste of heaven?

Would you like to visit the olive groves, sample local wines, and take an Italian cooking class in between those times where your mind is transforming, incubating and resting?

Would you benefit from a week of full immersion, getting away from it all, and experiencing some of the finest cutting edge healing and transformation modalties?
If you have answered 'YES' to any of the above, then do come and join us for this exclusive Italian Retreat and adventure.
Created and Hosted by Ana Capone and Marilyn Devonish, this event promises to be something very special.
We've already had such amazing interest from people that this page has been set up a place where you can register your expression of interest.
We are still reviewing local venues, looking at the various additional experiental trips that we want to include, and pricing all of the ground transportation so the retreat investment will be added once we complete our research.
Your EOI in no way obligates you to attending the Retreat, it simply means that you will get first notification when we release the Programme and open up the bookings. 
Places will be limited and will be on a first come first served basis.
FLIGHTS, TRAVEL, & ACCOMODATION
You will be responsible for booking your own flights.  If you book early enough, flights come in at about £64.95 return on Ryan Air from the UK.
Accommodation, breakfast, and lunch will be included in the Retreat price so you will just need to cover any additional evening activities and the price of drinks.  The wine tasting visit will be included as part of the Retreat.
WHAT ARE WE FOCUSING ON DURING THIS RETREAT?
This will be a week of transformation.  Marilyn Devonish is has been designing, developing, creating, and delivering Workshops for over 20 years and is a Certified Trainer and Practitioner in over 20 different modalities including NLP, Hypnosis, Time Line Therapy, EFT, DNA Theta Healing, Access Consciousness, Hawaiian Huna, Past Life Regression, and Future Life Progression, and has been a TranceFormational Change Coach and Therapist since October 2000.
Ana Copone is an OTH (Opening the Heart) Practitioner and specialises in removing energetic and emotional blocks and raising your vibration and energy.  Ana is also an Italian Private Tour Guide for the region of Italy we will be holding the retreat so already has a host of exclusive trips and private access visits in mind.  (I for one am looking forward to spending time at the beautiful venue that Justin Timberlake hired for his wedding, and visiting the place where Jamie Oliver cooks, and of course visiting the restaurant that Actor Tyrese Gibson of Fast and Furious Fame raved about to his millions of followers and fans!)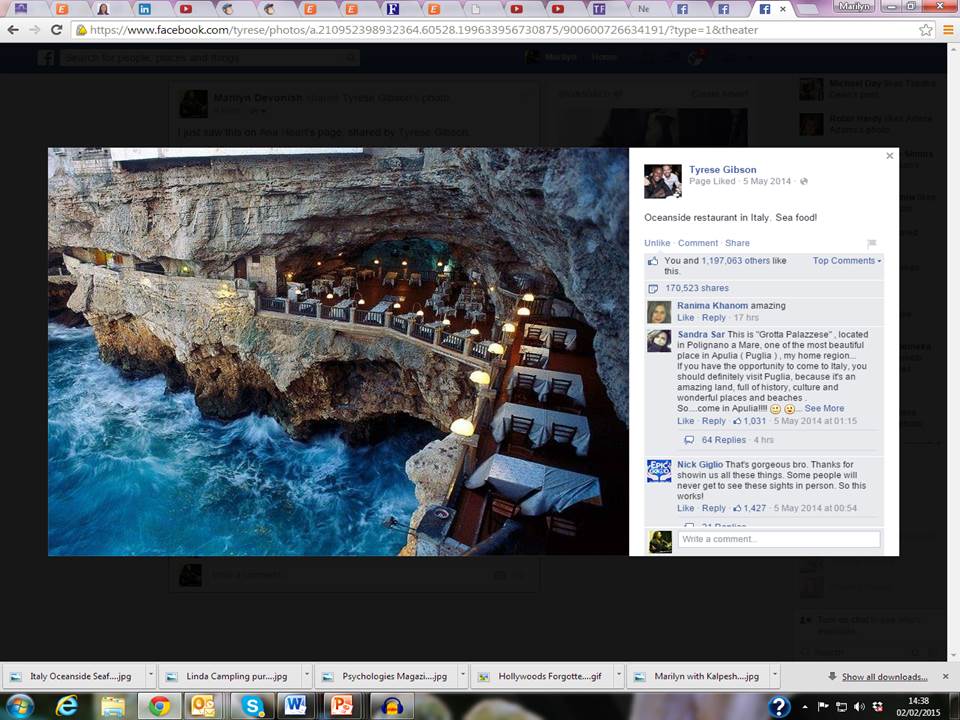 This Retreat will be a combination of self exploration, group processes, deep transformation, and some private individual one-to-one sessions.
It is designed to have you return home with a new outlook and perspective on life and feeling refreshed, renewed, and revitalised.
As we survey our participants about what they most want, need, and desire, further information will be released about the transformation programme.
NEXT STEPS?
If you would like to register your interest for attending this retreat:
Fill out the EOI ticket option above (if is free to register your expression of interest.  Investment to attend will be released shortly).

Put the Retreat dates: Sunday 18th - Saturday 24th October 2015 in your diary. 

Keep an eye on your e-mail inbox for futher updates and information.
WHAT DOES YOUR TICKET PRICE INCLUDE?
Your investment will include:
Retreat/hotel accommodation

Ground transfer from the airport if arriving on Sunday 18th October and leaving on Saturday 24th October

Breakfast and lunch throughout the Retreat

Trips and exercusion (Wine Tasting, visit to the Olive Grove)
Your VIP investment includes:
The items included in the standard investment above

Private one-to-one Sessions with Ana and Marilyn

Upgraded room and single supplement if required
AVAILABILITY
Due to the exclusive and intimate nature of thE venue there are just 12 places available and these will be offered on a first come first served basis.  Once prices have been released, a deposit will be required to confirm your place.
If you have any further questions or queries at this stage e-mail Ana Capone at:
ana@theheartwork.co.uk  or Marilyn Devonish: marilyn@tranceformationsTM.com  
We very much look forward to spending a transformational week with those you lucky enough to secure a place!
Marilyn Devonish xxx
CONTACT INFORMATION
Ana Capone:
Marilyn Devonish:
E-mail: Marilyn@tranceformationstm.com 
Web: http://www.tranceformationstm.com/photoreading/
Tel: +44 1923 337282
When & Where

Italy
Retreat location to be confirmed



Sunday, October 18, 2015 at 10:00 AM

-

Saturday, October 24, 2015 at 4:00 PM (CEST)
Add to my calendar
Organizer
Trance Formations TM
Trance FormationsTM offers Training, Coaching, NLP Facilitation, PhotoReading and Accelerated Learning & Development courses to corporations and individuals.
A pioneer in cutting edge change technologies, and with over 20 years industry experience, Trance Formations offers Coaching and Events that enable people to tap into their own innate potential.
Contact Information:
For details of PhotoReading one to one coaching sessions and corporate training courses, you can contact Marilyn Devonish on: 
Tel: +44 1923 337282
E-mail: Marilyn@tranceformationstm.com  Web: www.tranceformationstm.com
The Italian Retreat - A Week of Delicious Transformation for the Mind, Body & Senses