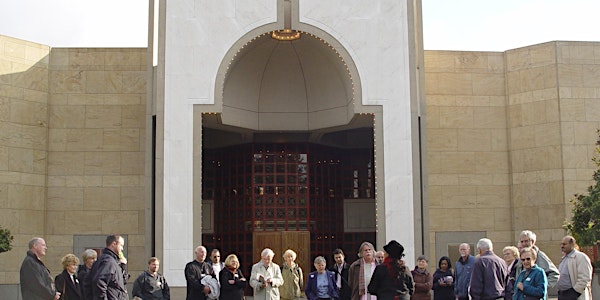 The Ismaili Centre Vancouver (ICV) BC on Thursday, September 1st, 2022
Tour of The Ismaili Centre, Vancouver (ICV)
When and where
Location
Ismaili Centre Vancouver (ICV) 4010 Canada Way Burnaby, BC V5G 1G8 Canada
About this event
The Ismaili Centre, Vancouver (ICV), designed by Bruno Freschi, is a synthesis of traditional Islamic architectural principles and modern construction techniques. The Centre, inaugurated in 1985, is one of BC's best-kept architectural secrets. From reports of people who have visited ICV, a visit to the Centre is sure to result in a very memorable day. 
 Join Aly Sunderji, Naz Rayani C.M., Ph.C., LLD, and Zahir Dossa for a tour of The Ismaili Centre, Vancouver.
 Date: Thursday, September 1st, 2022
Time: 8-8:15 am (meeting at the Swartz Bay Ferry Terminal in preparation for the 9 am sailing to Tsawwassen)
Cost: Please purchase your Foot Passenger ticket upon arrival at the ferry terminal(s).
Transportation: 
Please arrange for your own transportation to and from Swartz Bay terminal;
Transportation has been arranged by the Ismaili Council for BC for transport to and from Tsawwassen
Dress Code: Please dress modestly, as well as casually and comfortably for the weather.
Registration Link: https://www.eventbrite.com/e/the-ismaili-centre-vancouver-icv-bc-on-thursday-september-1st-2022-tickets-384278034947?aff=ebdsoporgprofile
Please pass the invitation on to your friends and family.
If the registration is full but you are still interested, please register on the "WAITLIST" and you will be contacted if space becomes available. 
SCHEDULE/TIMELINE:
8:00 – 8:15 a.m.
Meet at Swartz Bay Terminal to depart as foot passengers on the 9 a.m. ferry to Tsawwassen. 
Please purchase a foot passenger ticket upon arrival.  We will have breakfast on the ferry.
Upon arrival, a final count will take place and name badges will be passed around before boarding the ferry.
9:00 a.m.
Ferry to Tsawwassen
Upon arrival, please disembark from the foot passenger exit and meet at the end of the exit ramp 
10:45 a.m.
Ismaili Council for BC Shuttle Bus will pick up passengers at Tsawwassen terminal and transport them to ICV.
11:30 a.m.
If you are already based on the lower mainland, please meet at 11.30am in the ICV Courtyard located at 4010 Canada Way, Burnaby, BC.
The Tour commences on the first floor, including the administrative offices and Council chambers, by volunteer tour guide Aly Sunderji.
Tour Itinerary:
11:30 - 11:35 Arrival at The Ismaili Centre
11:35-11:50 Tour of the Courtyard
11:50-12:00 Bathroom break
12:00-12:45 Tour of the basement and council chamber, including a short presentation by Akhter Premji about the World Partnership Walk
12:50-1:50 Grace and lunch. Vegetarian lunch will be sponsored by Naz Rayani of Victoria Heart Pharmacy IDA
1:20-2:00 (Begins during lunch) Presentation by our Keynote Speaker: Rizwan Mawani
2:00-2:15 Tour of the Social Hall
2:15 Walk down the special stairway to the Prayer Hall
2:20- 2:40 Preparation and introduction to the Prayer Hall
2:45- 3:10 We will be in the Prayer Hall
3:15 Depart for Tsawwasssen Terminal
For a preliminary overview of the Ismaili Community, please feel free to watch the videos below:
Highlights from the past 30 years of the Ismaili Centre, Vancouver, featuring video footage of His Highness the Aga Khan, and Canadian Prime Minister Brian Mulroney at the Opening Ceremony of the Centre on 23rd of August 1985:
His Highness' Parliamentary Address:
http://www.nanowisdoms.org/nwblog/10724/
Interview with His Highness the Aga Khan and Peter Mansbridge: