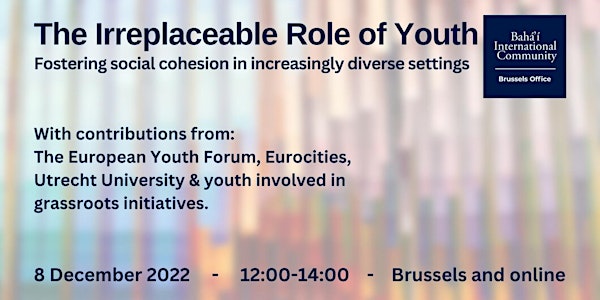 The Irreplaceable Role of Youth
The Irreplaceable Role of Youth: Fostering social cohesion in increasingly diverse settings
When and where
Location
Rue Montoyer 31 31 Rue Montoyer 5th floor 1000 Bruxelles Belgium
About this event
With contributions from the European Youth Forum, Eurocities, Utrecht University and youth involved in community-building processes at the grassroots.
About the event
The European Year of Youth offers a much welcome opportunity to explore in more depth how social cohesion depends on the contributions of youth.
The event aims to create a conversation with all participants, launched by short introductory remarks. It will first explore conceptions and manifestations of social cohesion in diverse settings and the unique role of youth in cultivating such cohesion in cities and communities across Europe. It will then look at the nature of the kind of environments that tap into these capacities and develop resilience in youth, including by drawing on existing examples.
More specifically we will ask ourselves how youth can envisage creating spaces and environments where they spearhead the community-building process and where their inherent potential is expressed. As residents in such neighbourhoods, youth are characterised by a desire to bring about constructive change, a strong sense of justice, and limitless capacity for meaningful service to their communities, irrespective of their background, nationality, or material means. While their realities are shaped by a broad diversity of circumstances, the aspiration to be part of a process of social transformation that advances the betterment of the world unites youth across Europe and beyond. If the right environments are fostered to harness these capacities, communities will substantially benefit and be better equipped to achieve greater levels of social cohesion.