Description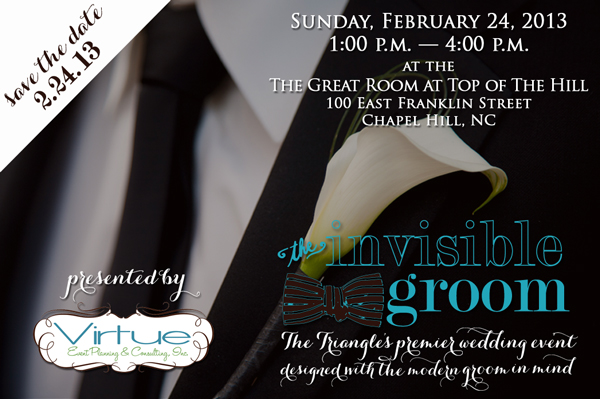 The Invisible Groom will feature information and consulting from Virtue Event's team and a selection of local vendors on Bachelor party planning, honeymoon planning, budget tips, beer tasting, cigar rolling, raffles and more all within the "Man Cave" atmosphere of The Great Room at Top of the Hill.
The Invisible Groom will also feature a bridal boutique for soon-to-be brides with information on wedding planning, wine tasting, wedding dresses, florists, stationary, make-up artists and more.
The Invisible Groom is sponsored by Virtue Event Planning and Consulting, Inc, The Great Room at Top of the Hill and Party Reflections. Marketing partners include Weddings Magazine, Southern Bride and Groom and Tivi Jones Media.
The event is free to the public but guests are encouraged to RSVP for the event, as there is limited space.