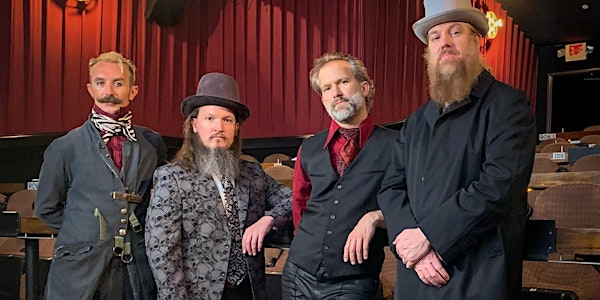 The Invincible Czars to open Halloween weekend festivities
The Invincible Czars are making their long-awaited return to the Varsity this fall, when the group embarks on a two-month "Nosferatu " tour.
When and where
Location
The Varsity Center 418 South Illinois Avenue Carbondale, IL 62901
About this event
The tour is conjunction with the release of the group's updated silent-film soundtrack of the 100-year-old film.
The Austin, Texas-based group makes cinematic, experimental "rock" music for nerds, horror fans, film lovers, science fiction (and fact!) comics, cartoons and humor and anyone with a complicated relationship with heavy metal and classical music. The musicians in the group – Aaryn Russell (bass guitar), Phil Davidson (violin, keyboard, glockenspiel), Josh Robins (guitar, percussion, sound effects) and Skunk Manhattan (keyboard, guitar synth) – create, compose and perform modern soundtracks for silent films and perform live with the movies.
On Friday, Oct. 28, this performance will usher in the Halloween festivities in the city of Carbondale. "Nosferatu" is one of the most revered films in the history of cinema, perhaps the most important horror film of the silent era and one of the first vampire movies.
Fans, venues and media have praised The Invincible Czars' soundtrack for making the century-old movie actually scary for modern audiences. Violin, glockenspiel, organ, flute, bass clarinet, voices and vocals, music box, loops, electric guitar, bass, piano and percussion all play prominent roles in the score and are a sight to behold when performed by only four players as the movie screens.
Attendees are encouraged to dress for the Halloween season at the show, which will begin at 7 p.m. on Friday, Oct. 28. Doors and the Varsity Bar open at 6. Tickets are $15 in advance and $18 at the door. Advance tickets are available here on Eventbrite. Tickets are not available in advance at the venue but will be for sale on the night of the show when doors open.