Description
Orgasm is the experience of being fully connected to life.
This is our first event of the series of monthly live demonstrations of expanded orgasm.. Discussion to follow.
"Loneliness is built by bricks of secrecy." If we can't be honest, we can't connect to another being. Nowhere we have more shame built up than in our sexual past.
Sexual energy is the core energy of our being. There is no escape from it. We need to go in, get real, nourish our roots and rise.
Through my 30 years of personal development and deep spiritual work, I had no idea how much I was hiding from my own sexual shame. Trapped by my traumas and insecurities, I had no words to put to what was deeply hidden in my body, breaking through the numbness and finding an expression. It took me years of research and I will be sharing that process here.
We talk about LOVE, and it's time to learn HOW to make love That is honours the energy, respects our desires, gives voice to the unspeakable, nourishes the body, fulfills the soul, connects us to our life force and fuels our creativity. Touch each other with wondrous curiosity and define sexual sovereignty.
Learning to carve out set time to for conscious connective sexual practices without the goal of orgasm has been the cornerstone of my sexual expansion.
My vision is that one day all of us have access to these instructional practices that have been buried under centuries of suppression, daring to look at our sexual inadequacy, issues with lack of orgasms, numbness, pain during intercourse, premature ejaculation, erectile dysfunction, or their obsession with fantasy, pornography and intense stimulation is a way out of the pain.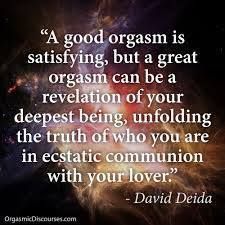 You will be learning :

* re-sensitizing the body
* opening the energy in the body for more intense, full body orgasms
* releasing fears, insecurities, feelings of unworthiness, shame and guilt around sexuality
* learning to work with your emotions
* re-activating your natural capacity to heal yourself using your own energy
* using your sexual energy for raising your consciousness
* going on a transformational journey
You will leave deeply nourished, magnetic and vibrant.
You will learn lots of amazing practices that you will be able to take with you into your daily life and into your current or future relationship.
The evening is open to both singles and couples, whether you are having rock star sex or none you will walk away with skills that you can use right away in your own sexy individual or shared sessions.

*** During this workshop there will be nudity in the form of genital exposure by the presenter to demonstrate the techniques of the expanded orgasm. By purchasing a ticket you are agreeing that you are comfortable with this type of experiential live demonstration taking place. There will be no nudity or sexual touch between participants. Adults only***
About the facilitator:
Julia Kovacs has had training in expanded sexual practices through Morehouse university, Onetaste, Mama Gena's school of womanly arts, and many more including various tantric, taoist and shamanic schools.
She loves to engage the community in her popular Facebook group Soulsexy.life.
This is a chance to meet her in person and go beyond the intellectual connection.
She has also incorporated body work, breath work and the meaning of sacred touch into her sharing.
Her goal is to be the bridge between this esoteric and time consuming practices and summarize the wisdom teachings and make it applicable to today's modern individual who has very little time to engage yet finds him/herself confused at this time of #metoo.