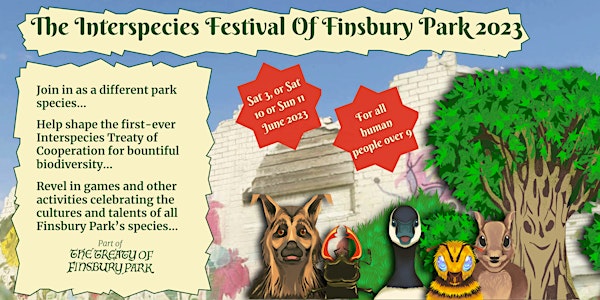 Multiple dates
The Interspecies Festival of Finsbury Park 2023
Immersive multi-species role-play event in Finsbury Park.
Date and time
Starts on Sat, 3 Jun 2023 12:30 BST
Location
Park View Cafe Manor House, 327a Green Lanes Finsbury Park London N4 1BZ United Kingdom
About this event
The Interspecies Festival of Finsbury Park Needs You!
Join us for an afternoon of immersive role-play, exploring the park in fantastical new ways as one of the Mentor Species of Finsbury Park: the dogs, the stag beetles, the bees, the Canada geese, the grass, the squirrels and the London plane tree….
Transform into another species with a totally different sense of what is important and explore three biodiversity habitats: the old forest, the new forest and the wildflower meadow.
The Interspecies Festival welcomes ALL human people over the age of 9.
Revel in games and other activities celebrating the cultures and talents of all Finsbury Park's species…
Multisensory Mystery Tour: see, hear and smell the old forest through the sensory superpowers of squirrels, trees, and dogs…
Multispecies Choir: squeak, squawk, howl and honk "songs" of lament, celebration and protest…
Help shape the first-ever interspecies treaty of cooperation for bountiful biodiversity…
All festival activities were devised by players of the 2021-22 Interspecies Assembly Games.
DATES: Sat 3 or Sat 10 or Sun 11 June 12.30-5.00.
FREE but requires prior registration and a little imaginative preparation. Attend our amazing FREE workshops on 29-30 April or use our friendly costume and character guides.
One person can reserve up to 4 tickets if coming as a group. If you want to bring more than 4 please contact us.
Light snacks and refreshments provided.
Let us know your accessibility needs: info@furtherfield.org
Project website: https://treaty.finsburypark.live/
Project updates: instagram @interspeciestreaty
..........
In The Treaty of Finsbury Park 2025, we are catapulted several years into the future where all the species of the park have risen up to demand equal rights with humans. After much unrest, it has been agreed that a treaty will be drawn up, designating these rights, but first humans must learn to better relate to and understand non-humans so they can cooperate better together. Thankfully there has been a new invention – The Sentience Dial – which allows humans to tune into all the flora and fauna of Finsbury Park.
If colonial systems of dominance and control over living beings continue we all face an apocalypse.
The Treaty of Finsbury Park 2025 is a collaborative project that depicts the story of the dawning of interspecies democracy – a new era of equal rights for all living beings. Where all species come together to organise and shape the environments and cultures they inhabit, in Finsbury Park, urban green spaces across the UK, the world, and beyond. Like many urban parks, Finsbury Park is fraught with environmental issues from noxious gasses and traffic noises to governance struggles and financial sustainability.
..........
Featured images
By Furtherfield with illustrations by Sajan Rai
Sentience Dial Video concept by Furtherfield, visual design by Cade Diehm
..........
About the organiser
London's longest-running (de)centre for art, technology, and social change