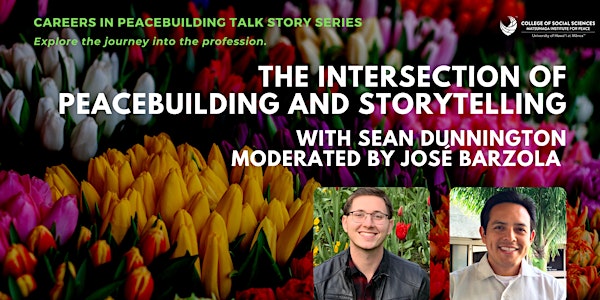 The Intersection of Peacebuilding and Storytelling
CPTSS "The Intersection of Peacebuilding and Storytelling" with Sean Dunnington and moderated by José Barzola
About this event
Careers in Peacebuilding Talk Story Series
"The Intersection of Peacebuilding and Storytelling"
With Sean Dunnington and Moderated by José Barzola
Explore the journey into the profession.
The Story
In this talk story, we'll explore ways in which anyone can apply storytelling to promote healing amongst their communities. Through an artistic interdisciplinary approach, we'll reflect on the power of story and review the possibility it wields to build peace and bridge mutual understanding.
About Sean Dunnington
Sean Dunnington (he/him) is an Ashkenazi queer playwright, geographer, and civic artist living between Brooklyn and Honolulu. His stories have been produced and presented Off-Broadway, in regional theatres across the country, local libraries and galleries, state museums, old attics, public radio stations, film festivals, and LGBTQIA+ centers. He's been in residence with the East-West Center, Waiwai Collective, Unruly Collective, and University of Hawai'i Truth, Racial Healing and Transformation Campus Center, and he's been a fellow with Creative Labs Hawai'i and the California Arts Council. Sean believes in democratizing storytelling, so he leads free writing workshops and story circles for non-profits, public schools, and community centers. He's currently pursuing his MFA in Dramatic Writing from NYU Tisch School of the Arts.
About José Barzola
José Barzola has a passion for creating social change through nonviolence, nurturing relationships that transcend cultural barriers, and focusing on issues of diversity, inclusion, and equity. He is a highly organized higher education administrator with 20 years of experience and success in administration, student development within academic and student affairs. José has also been an affiliate faculty teaching courses on peace and conflict resolution, a professional mediator and facilitator for 10 years both in New York and Hawaii. He is currently the Educational Specialist and Affiliate Faculty at the Matsunaga Institute for Peace and Conflict Resolution at the University of Hawai'i at Mānoa,
Co-Sponsor:
Matsunaga Institute for Peace