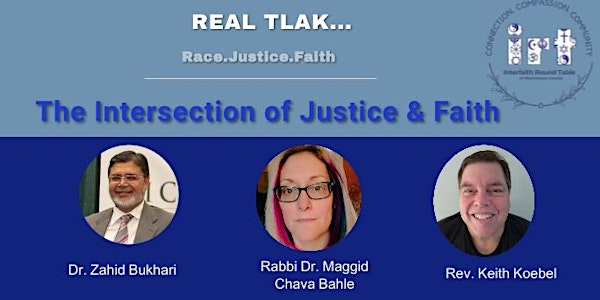 "The Intersection of Justice and Faith"
What do the diverse religions say about justice?
About this event
Join us to explore the intersection of justice and faith in a few religions. How do we define "justice" in our faith, and "how will it determine our work to achieve it"?
Diverse faith leaders will reflect on how their respective faith traditions approach the concept of justice and help us understand its applications and dispel some of the misconceptions.
OPTIONAL DONATION: If you can, please donate to IRT to help cover the costs of this program and future ones. Any amount is appreciated! Follow the link to donate: https://irtwc.org/donate/
Donate via Zelle: interfaithwashtenaw@gmail.com
Media Release: By registering for this event, attendees of all ages agreed that any pictures taken at the ZOOM event would be used by IRT on its Social media platform and the website.
"Meet our Amazing Speakers"
Dr. Zahid H. Bukhari serves as Executive Director of the ICNA Council for Social Justice (ICNA CSJ). Since 2004, he has also been serving as Executive Director of the Center for Islam and Public Policy (CIPP), Washington, DC. Previously, he worked as Director, American Muslim Studies Program (AMSP) at the Prince Alwaleed Center for Muslim-Christian Understanding, Georgetown University, Washington, DC. From 1999-2004, he also worked as Director, Project MAPS: Muslims in American Public Square, which examined the role and contribution of the Muslim community to the American public life. He has taught courses on 'Muslims in America' and 'Islam in the West' at Georgetown University. He has also served as external adviser for Ph.D. Dissertations from Howard University, Washington, DC, International Islamic University, Islamabad and University of Karachi, Pakistan. Dr. Bukhari's research interests focused on Islam in the West; Muslims in America; religion and politics; and religion, humanitarian aid and development. He is also editor of the Project MAPS volume: Muslims' Place in the American Public Square: Fears, Hopes and Aspirations; and the CIPP volume: Observing the Observer: The State of Islamic Studies in American Universities. From 2009-2012, Dr. Bukhari also served as National President of Islamic Circle of North America (ICNA). He has also participated extensively in the Interfaith dialogues at local as well as national levels. Dr. Bukhari has a Masters in Economics from the University of Karachi, Pakistan and Ph.D. in Political Science from the University of Connecticut, USA."
Rabbi Chava Bahle is known across the region as a visionary leader to people of all cultural backgrounds. Chava is a twice ordained rabbi and Maggid, a Jewish inspirational preacher and storyteller. Her current work is to live into the teachings of Rabbi Zalman Schachter-Shalomi, her teacher, of blessed memory, who taught that we can and should find nourishment in traditions other than our own. She earned her Doctor of Ministry from Catholic Theological Union at Chicago, where she focused on mystical aspects of interreligious dialogue. Chava writes book reviews for academic journals, and since a brain injury in 2018, focuses her life on study and prayer. She is currently writing a biography of German expressionist actor Conrad Veidt. She lives in Suttons Bay and is married to Karl Bahle. Together they serve as staff to a fine and holy cat named Minnie Purrl.
KEITH KOEBEL (they/them/their) has been an ordained minister within the protestant Christian denomination, the United Church of Christ (UCC), for the past 36 years. During all of that time they have split one full-time clergy position with their spouse, Pam. To them, having only 1 full time position between 2 people was/is a matter of social justice. Keith has been part of the Board of Directors of the IRT since 2017. Keith's sense of social justice springs forth from an upbringing in the UCC and a continuing engagement with the faith expressions espoused in the Hebrew & Christian scriptures. Keith has been part of numerous interfaith, ecumenical Christian, and social justice groups wherever the road has led. Keith & Pam's journey started off together in St. Louis, Mo. and has meandered through Maine, central Illinois, west Michigan, and for the past 5 years in Washtenaw County. During the course of that time there have been too many: marches, protests, discussion groups, pilgrimages, school and church events, newspaper articles, camps, canoes on rivers, building projects, cultural immersion experiences, continuing education and leadership programs to enumerate. They hope their last stop on the journey will be in their first home in Jackson County, no more than 1 1/2 hours away from all their children and grandchildren.