The Internet Presidential Campaign of 2012

Tuesday, June 19, 2012 from 8:00 AM to 10:00 AM (EDT)
Event Details
You are invited....
to an event of the Broadband Breakfast Club
To see our event series:
http://broadbandbreakfastseries.eventbrite.com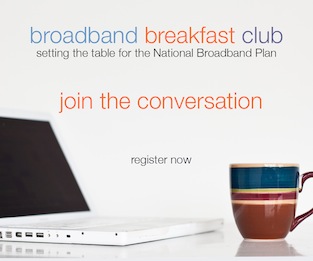 The internet Presidential Campaign of 2012
This year marks the fifth presidential cycle that the internet has played a role in the campaign. In 1996, Bob Dole flubbed the name of his web site during a presidential debate. A side-drama in 2000 concerned whether Al Gore took the lead in inventing the internet. Think of 2004 as the year of the blogger. And in 2008, Barack Obama used social media to revolutionize the race for the presidency. What will this campaign cycle bring?
Telecommunications advocates, policy-makers, journalists, top officials and the general public, all seeking to trade insights on these important issues, are invited to attend this event of the Broadband Breakfast Club, which includes full American and Continental breakfasts, for as little as $45.00, plus a modest registration fee.
This event is on the record and open to the public. 
For News and Events on BroadbandBreakfast.com follow us at http://www.twitter.com/broadbandcensus
Event Details
Title:  The Internet Presidential Campaign of 2012
Date:  Tuesday, June 19th, 2012  8 a.m. - 10 a.m. 
Where:  Clyde's of Gallery Place, 707 7th Street NW, Washington, DC 20001
The breakfast begins at 8 a.m., followed by a discussion, beginning shortly after 8:30 a.m. and ending by 10 a.m.
Panel:
Stephen Geer
Partner
OMP
Stephen Geer is a partner at OMP, a Washington, DC based communications and direct marketing firm.  He leads the firm's digital strategy work, and his clients include the ACLU, American Bridge 21st Century, LIVESTRONG, Mayor Michael Bloomberg, the USO and Wikipedia.  Prior to joining OMP, Stephen was Director of Email and Online Fundraising for President Obama's historic 2008 campaign.  He also led online organizing at the Center for American Progress.
Kate Kaye
Senior Editor
ClickZ
Few people can say they've followed digital political advertising since 2002, but Kate Kaye is one. Today Kate is a trusted source on the topic, discussing it at speaking engagements and in interviews for television, radio, print, and digital media outlets. Kate is the author of "Campaign '08: A Turning Point for Digital Media," the only book focused on the paid digital media efforts of the 2008 presidential campaigns. In her current role as Managing Editor at ClickZ, Kate created the publication's Politics & Advocacy section and is quite possibly the only reporter regularly tracking online ad spending by campaigns and super PACs. In 2005, Kate was associate editor and contributing writer for Personal Democracy Forum, which follows the convergence of politics and technology. 
Ryan Meerstein
Senior Political Analyst & Director Human Resources
Target Victory
Prior to joining Targeted Victory, Ryan Meerstein served as the Executive Director of the South Carolina Republican Party, overseeing Party operations, fundraising, communications and compliance. In 2008, Ryan served as the Ohio State Director for the McCain-Palin Presidential Campaign where he oversaw the statewide day-to-day campaign activities during the General Election. Before joining the McCain team, Ryan served as the South Carolina State Director for Rudy Giuliani's Presidential Committee. In 2005-06, Ryan served as the Director of Political Education at the Republican National Committee, where he organized and managed 40+ training programs & campaign colleges across the United States, including the newly formed Campaign Field School. During the 2004 Presidential campaign cycle, Ryan worked for the Ohio Republican Party as the Central Ohio Victory Field Coordinator. Ryan is a graduate of Allegheny College where he earned a bachelor's degree in Political Science.
Rob Saliterman
Senior Account Executive
Elections and Issues Advocacy
Google
Rob Saliterman heads the Google advertising team's sales and outreach efforts to Republican political campaigns, building relationships with campaign managers, digital agencies, and issue advocacy groups to drive adoption of online advertising.  He previously served as Communications Director to former President George W. Bush in Dallas, Texas.  From 2008 to 2009, he was Spokesman for International Affairs at the U.S. Department of the Treasury and earlier served as Director of Rapid Response in the White House Office of Communications.  He has also worked at the Republican National Committee and on the Bush-Cheney '04 Presidential Campaign.  Saliterman is originally from Minnesota and received a BA from Columbia University and an MBA from Harvard Business School. 
Jamie Smolski
Global Marketing Solutions
Elections and Issues
Facebook
Jamie Smolski works in Facebook's DC office as part of the U.S. Government and Politics team focusing on political outreach and the 2012 presidential election. Prior to joining Facebook, Jamie was a client representative at IBM. While in college, Jamie worked as an as an intern for Ogilvy and Mather in New York City and Paramount Pictures UK in London, England where she fell in love with digital marketing. Jamie holds a BA in business administration with an emphasis in marketing from the University of Colorado-Boulder and she is a member of the Leeds GOLD Board
Moderator:
This event will be moderated by Alexis Simendinger, White House Correspondent, RealClearPolitics.com. 
A native of Washington, D.C., Alexis Simendinger has been a reporter in the capital since 1986.  She joined RealClearPolitics as White House correspondent in May 2011, shortly after completing a six-month investigative project with the Financial Crisis Inquiry Commission to help write the best-selling official account of the 2008 financial meltdown, published early in 2011. Alexis previously covered the White House, national affairs and presidential politics for National Journal magazine, reporting on the administrations of Bill Clinton and George W. Bush, as well as Senate action during Barack Obama's first two years in office. For "sustained excellence in White House coverage, Alexis in 2008 won the respected Aldo Beckman journalism award administered by the White House Correspondents' Association for her 2007 National Journal reporting about the Bush White House. She earlier reported for news and information publisher BNA (the Bureau of National Affairs Inc.), in Washington, covering the White House (and the final year in office of President George H.W. Bush), Congress, executive branch departments, and the Supreme Court.  In Florida, she began her reporting career at The Tampa Tribune. Alexis earned a master's degree in journalism from the University of Missouri-Columbia, and her B.A. from New College in Sarasota, Fla.
The Broadband Breakfast Club is a "widely attended event" under House of Representatives Rule 25, clause 5(a)(4)(A).
-----
For individuals outside of Washington, or those whose schedule doesn't permit attendance in person, archived webcasts of the Broadband Breakfast Club are available for free on BroadbandBreakfast.com.
The Broadband Breakfast Club seeks sponsorship of our events from interested companies and organizations. We especially encourage organizations to sponsor a package of multiple events — such as one of our upcoming topical series. For details on sponsorship opportunities, please contact Sylvia Syracuse at 646-262-4630 or sylvia@broadbandcensus.com. The Broadband Breakfast Club is produced by Broadband Census News LLC. 
Follow us on Twitter at www.twitter.com/broadbandcensus
______________________________________________________________
The Broadband Breakfast Club is Sponsored By:




When & Where

Clyde's of Gallery Place
707 7th Street NW
Washington, DC 20001


Tuesday, June 19, 2012 from 8:00 AM to 10:00 AM (EDT)
Add to my calendar
Organizer
Broadband Breakfast Club
BroadbandBreakfast.com is an internet policy news and events service devoted to breaking news on Broadband policy issues including Broadband Stimulus, Wireless, the National Broadband Plan, Universal Service, and more. Our trenchant articles are free at BroadbandBreakfast.com.

To complement our news service, BroadbandBreakfast.com also hosts monthly "Breakfast Club" events and other special events.
Our Broadband Breakfast Club series meets monthly on the THIRD Tuesday of the month (except for August and December).
Events are held at Clyde's of Gallery Place, 707 7th St. NW, Washington, DC. Metro Stop: Chinatown/Gallery Place.
Events are open to the public and held from 8 am - 10 am, with full Continental and American breakfasts served from 8 am - 8:30 am.
To subscribe to our news service go to BroadbandBreakfast.com.
To register for our next event click on
http://broadbandbreakfast.eventbrite.com
To view our past and future events see 
http://broadbandbreakfastseries.eventbrite.com
To view our event videos see
http://broadbandbreakfast.com/category/broadband-tv/
The Broadband Breakfast Club is Sponsored By:



The Internet Presidential Campaign of 2012