Description
The Inaugural Conference of The International Conference on Human Trafficking Research (ICHTR) will be held in the Harper Center on the campus of Creighton University
The Field of Human Trafficking: Expanding on the Present State of Research
The mission of ICHTR is to establish an academic conference to serve as a forum for outstanding cross-disciplinary research in human trafficking, with the long-term goal that the conference will lay the basis for the emergence of a professional association dedicated to the study of human trafficking.
The keynote speaker will be Fabrizio Sarrica, who leads the UNODC research team on trafficking in persons.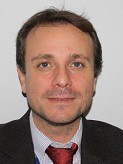 Fabrizio Sarrica is a research officer for the United Nations Office on Drugs and Crime (UNODC). He is currently serving as Team Leader for the UNODC research on trafficking in persons and smuggling of migrants. He is the co-author of five UNODC Global Reports on Trafficking in Persons (2009, 2012, 2014, 2016 and 2018), as well as leading the production of the UNODC Global Study on Smuggling of Migrants.
Economist by background, he holds a Ph.D. in Criminology. Dr. Sarrica has studied and published on different crime fields. For UNODC, he has supported the production of national and regional studies on judicial integrity, corruption, organized crime, human trafficking and smuggling of migrants in different parts of the world.
Since 2010, he is supporting Members States to improve their national capacity to collect data, to share information, as well as to produce national and regional Trafficking in Person reports.
The ICHTR Steering Committee includes some of the leading scholars on human trafficking:
Rochelle Dalla – University of Nebraska
Meredith Dank – John Jay College
Maria Laura Di Tommaso – University of Torino
Elzbieta Gozdziak – Georgetown University
Edward Kleemans – Free University Amsterdam
Louise I Shelley – George Mason University
Rebecca Surtees – NEXUS Institute
Sheldon Zhang – University of Massachusetts Lowell


Conference Features
Presentations of current research
Roundtable discussions led by leading researchers
Poster and panel sessions for graduate students
Poster session for undergraduate students
Keynote speaker
Representatives from journals & publishing companies
Representatives from non-profit organizations
Conference Fees
Registration for those presenting a paper or poster accepted by the conference organizers or participating on a roundtable accepted by the conference organizers is $100
Registration for those not presenting a paper or poster or participating on a roundtable is $150
Direct Questions to the ICHTR Organizing Committee
Jennifer Bossard – Doane University
Terry D. Clark – Creighton University
Crysta N. Price – Creighton University
Or email us at ICHTR@htilabs.org
HTI Labs - Visit our website for all updates and information on booking hotels!