The Institute Presents: NEUROSOCIETY
When and where
Location
350 El Camino Real Menlo Park, CA 94025
Description
The Institute Presents: NEUROSOCIETY
"art that exercises the brain"- Vogue

"instead of just reading about the latest mind-bending experiments in neuroscience... participate in them." -NY Times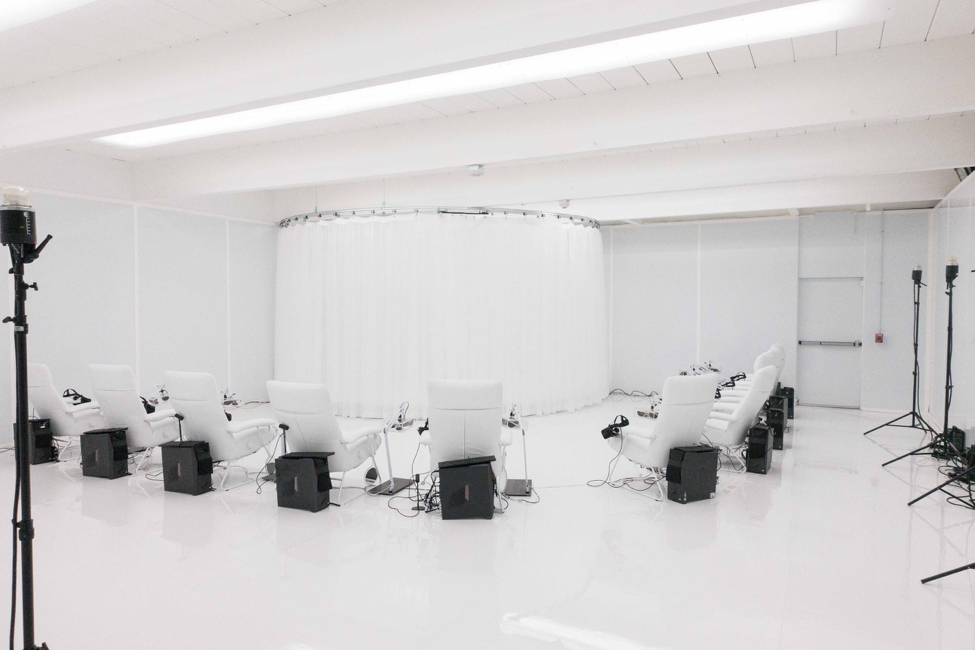 The Institute Presents: NEUROSOCIETY, co-created by David Byrne and Mala Gaonkar, is an 60-minute immersive theater performance where you will be guided through a series of experiences created in collaboration with working neuroscience labs.
The Institute Presents: Neurosociety is a series of interactive environments created by Byrne and Gaonkar that present the emerging work of fifteen cognitive neuroscience labs around the world. You will be led through 4 rooms, and in each room you will experience a surprising aspect of yourself and how you relate to the world and to other people. You will see your hand grow giant and you will be embodied in a doll's body. You will see moving objects freeze, predict real elections and face moral dilemmas
Visitors will experience the labs' work in visceral and entertaining ways. With the consent of participants, visitors' reactions and decisions will be anonymized and used by the labs to further their research. Each visitor thereby becomes a unique and integral part of The Institute's ongoing research.

"Experiments, we feel, are a form of theater."

About David Byrne: David Byrne is co-founder of the influential and acclaimed band Talking Heads. As a solo artist, his career has been prolific and wide-ranging. He has written and directed feature films, exhibited visual art for decades and published both fiction and nonfiction writing to great acclaim.

About Mala Gaonkar: A technology investor at an investment advisory firm, Mala Gaonkar's non-profit work focuses on innovations that shift community behaviors and biases, aiding public health and education outcomes. She is a founding trustee of Ariadne Labs, the Queen Elizabeth Prize for Engineering and Surgo Foundation, and a trustee of Tate.
Additional Information:
Please check in at reception 15 minutes before your entrance time.
Late Entry
We humbly ask visitors to be on time—latecomers will not be admitted until after the first room is completed (about 25 minutes in). When possible, latecomers may join join the next group. No refunds for lateness, sorry.
Hands Free
We request that all visitors check bags, phones and coats. There is no intermission and no photography during the show.
Age Restrictions
Due to the sensitive themes discussed, Neurosociety is not suitable for children under the age of 13. We strongly discourage bringing infants to this exhibit.
School Groups
School groups should contact rsvp.neurosociety@pacegallery.com at least one week before attending Neurosociety so that we can adequately plan for their visit. Please consult the above age restrictions before purchasing tickets for your group.
Health and Safety Warning
One room in Neurosociety features complete darkness and some single very bright flashes of light (they are NOT strobes); anyone subject to claustrophobia or concerned about this please be advised.
Neurosociety is an ADA-accessible performance exhibition that will require you to move about. One room requires you to stand for 25 minutes, another to sit in a classroom desk and another to sit in a low, reclining chair. We welcome audience members who are mobility-impaired and ask that you arrive early to speak with the Receptionist desk about any questions or concerns you may have.
Each show will run for an estimated 60 minutes.
The Institute Presents: NEUROSOCIETY has its own parking lot at 350 El Camino Real, Menlo Park.
Tickets are non-refundable and are $20. Tickets are valid for your scheduled time only.

The exhibition will be on view at Pace Art + Technology, located at 350 El Camino Real in Menlo Park and will run until March 31, 2017.

The Institute Presents: NEUROSOCIETY with Pace Art + Technology would like to thank Samsung for their generous donation.
For press inquiries, please contact: Florie Hutchinson,
+1 415 515 4696 or florie.hutchinson@gmail.com
Follow Pace Gallery on Facebook (facebook.com/pacegallery),
Twitter (twitter.com/pacegallery) and Instagram (instagram.com/pacegallery)