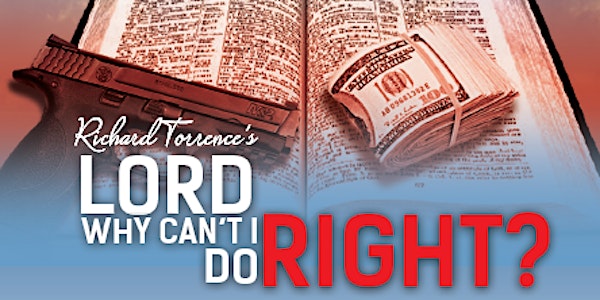 The Inspirational Musical Richard Torrence's "Lord Why Can't I Do Right?"
Description
In life's journey towards our true purpose, we often encounter temptation, self-doubt and resistance from others, including family. But it is by the grace of God that we can overcome these challenges and walk into our calling. This play tells the story of transformation as characters overcome drug addiction, near death experiences, abuse, abandonment and loss on the path towards self-realization.​
Kenny, an unsuccessful man by society's standards, is caught up by a fascination with women, drugs and money. Following an unfortunate near death experience, Kenny's true purpose in life is revealed. Now, Kenny must spread the word about the grace and goodness of God.
Kenny's brother, DeAundre is a white collar hustler, who is extremely successful at scheming the community to support his fake businesses. For his own selfish reasons, DeAundre offers to assist Kenny in establishing a church to proclaim how he overcame death.

DeAundre conceives a manipulative plan to use his brother's church to expand his phony empire, while ignoring Kenny's supernatural gift of ministry. When two brothers with contradicting objectives collaborate to start a church, all hell is bound to break loose. It's a grueling life to live when your own blood cannot be trusted.

Play Website: http://www.makeyoufamousentertainment.com/
FAQs
How can I contact the organizer with any questions?
For more information please call 229-588-2323
http://www.makeyoufamousentertainment.com/
What's the refund policy?
All sales final. No refunds or exchanges.
Do I have to bring my printed ticket to the event?
You will need to exchange you eventbrite ticket at the will call window for a ticket to enter the venue.
Is it ok if the name on my ticket or registration doesn't match the person who attends?
Your eventbrite ticket can only be used once. Once it is exchanged at will call it can no longer be used for any show to gain access to the show.
Do you offer a discounted price for goups of 10+?
Yes please call our office to arrage group ticket sales. 229-588-2323