Multiple Dates
The Inside Scoop: How to Realistically Accelerate Advancing Your Career
Description
FREE WEBINAR: The Inside Scoop: How to Realistically Accelerate Advancing Your Career
1 Topic- 5 Tactics - 2 Actions

Are you ready to pursue the next step of your career but see roadblocks in your way?

Are you currently experiencing any of these frustrations?
Not being given credit for the full value of the skills you bring to your organization?

Want to grow your skills but not getting many opportunities to do so on the job?

Want to make a real difference in your workplace but not sure as to how?


Completed an interview, but not given an offer for the job?

Not getting visibility to hiring managers or upper management?

Want to better position yourself for the next, great career opportunity?

Want a stronger career development plan that catapults career advancement?

Not being compensated or rewarded at the level you desire?

Just don't know what you're doing wrong, if anything at all?
If you are in the workforce, you are competing with hundreds of peers who have similar titles and skills. In order to succeed in increasing the probability of advancing your career, you must do what it takes to:
1. Differentiate your professional value

2. Transform your personal brand into a leadership brand
3. Attract the attention of senior leaders & other decision-makers
Did you know that the top ranked 10% of the employee population receives the lionshare of rewards, recognition, compensation and new opportunities? In which percentage do you rank? Do you even know?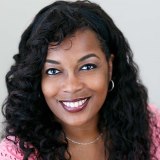 Join Karan Ferrell-Rhodes, CEO & Lead Strategist of Shockingly Different Leadership, as she pulls back the secret HR curtain to help you understand how to more competitively position yourself for advancement in today's evolving workplace environment. Learn valuable tips and advice that are never taught in college or by Human Resources departments.
In this free workshop, you will learn:
The real rules of how the career advancement game is played.

5 tactics to becoming more "career advancement ready"

How to stand out as a leader, noticeably grow your marketability, and become eagerly sought after. (And the great news is that it isn't very hard!)

2 action items that you can implement

TODAY

, which will increase your chances of landing your next desired career opportunity.
Are you ready to increase your chances of capturing the attention of key influencers, developing unique leadership brand positioning, and creating a personal legion of "raving fans" who will be deeply invested in your future success?
If so, join us by registering for this rarely offered, free webinar. You ALREADY have the right talents. Let's work to see them used in bigger, bolder, and better ways that will make you happy!