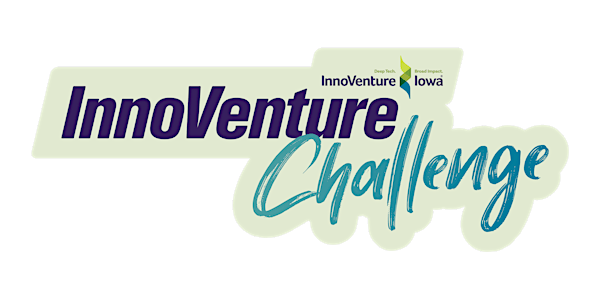 The InnoVenture Challenge
A celebration of Iowa entrepreneurs, with opening presentations from Bunker Labs.
When and where
Location
Temple Theater 1011 Locust Street Des Moines, IA 50309
About this event
Join us on December 7th for the inaugural InnoVenture Challenge, the state's first winner-take-all $100k pitch competition for early-stage, high-growth startup companies in Iowa.
SCHEDULE OF EVENTS
4:30-5:30p : Happy Hour & Networking
5:30p: Welcome from Debi Durham, Director of the Iowa Economic Development Authority and the Iowa Finance Authority
5:45p - 6:05p: Veteran Showcase from Bunker Labs
6:05-6:45p: InnoVenture Finalist Pitches
7:00p: Winner Announced
THE VENUE
This year's InnoVenture Challenge is proudly hosted at the Masonic Temple Theatre in downtown Des Moines, a building with a rich history and deep roots in our community. Our venue sponsor, Jennings Kallen Advisors, made this possible for us. The Temple Theatre is long regarded as a home for the arts, and we couldn't imagine a better venue to celebrate Iowa's entrepreneurs: where creatives and outliers and indefatigable optimists collide.
THE FOOD
Enjoy a robust selection of nosh, sponsored by our friends at Brown Winnick Law and prepared by local catering company, Tangerine Catering. This impressive spread will include charcuterie, sesame noodles, sweet and sour meatballs, a shrimp cocktail, spinach artichoke dip, sandwiches and cookies.
THE LIBATIONS
Enjoy a drink (or two!) at our open bar, kindly sponsored by Dentons Davis Brown, our entertainment sponsor for the night. We'll have beer, wine, cocktails and non-alcoholic beverages available to our guests until 7:30p - well after the curtains close at the end of the night.
THE MUSIC
Abbie and the Sawyers, this year's homegrown musical guest, will be performing at the 2022 InnoVenture Challenge. Come early (4:30p) to boogie down with the band and enjoy a drink while our startups practice their pitches in the greenroom.
THE PITCHES
We'll kick-off the show with the Veterans in Residence showcase, presented by Bunker Labs. We are incredibly proud to partner with Bunker for this event; Bunker Labs provides community, programs, and courses to help military veterans and military spouses start and grow successful businesses and startups, right here in Iowa. We'll hear from three cohort companies to start our evening.
After that, our InnoVenture Challenge finalists will take the stage to compete for a $100,000 non-dilutive cash prize. They will each present a 5 minute pitch, followed by 5 minutes of Q&A from the judges. This year's finalists are:
Hawkeye Surgical Lighting
Hawkeye Surgical Lighting has developed the world's first voice- and motion-controlled surgical headlight that integrates with an iOS app through Bluetooth.
The Hummingbirds
The Hummingbirds platform enables businesses and organizations of all sizes to find and work with hyper-local content creators to drive revenue and recognition.
Clayton Farms
Clayton Farms builds vertically integrated, direct-to-consumer indoor farms. They are currently serving customers in Ames and Minneapolis.
WHAT IS BUNKER LABS?
Bunker Labs provides community, programs, and courses to help military veterans and military spouses start and grow successful businesses and startups. On December 7, 2022, Bunker Labs will produce the Veterans in Residence Showcase, which honors over 500 Veteran and military spouse entrepreneurs who are participating in the Veterans in Residence Program in 34 cities across the country. The Veterans in Residence Showcase exists to rally business and civic leaders around Veteran and military spouses, making real connections that lead to real opportunities like customers, capital access, and partnerships.
WHAT IS INNOVENTURE IOWA?
InnoVenture Iowa is a $30 million co-investment fund designed to support early-stage startup companies in bioscience, advanced manufacturing and information technology. The fund was launched in October of 2022 and seeks to support Iowa entrepreneurship through early-stage investments and ongoing programming, resources and support.
The InnoVenture Challenge is free and open to the public, thanks to our fabulous sponsors: Brown Winnick Law, Dentons Davis Brown and Jennings Kallen Advisors. Come find them at the event to say hello!