Description
The Innovation Salon from MassMEDIC, a live conversation series, which shine's a spotlight on the personal stories behind medical innovations returns on the evening of October 17, 2019 with a conversation featuring Boston Scientific's Chief Medical Officer Dr. Ian Meredith.

Dr. Meredith will join MassMEDIC President Brian Johnson for a discussion about how changing global demographics/aging population are putting pressure on the medtech industry to adapt. In addition, Dr. Meredith will discuss how his career as a clinical and interventional cardiologist guides his hand as a strategic driver for one of the world's largest medtech companies.
The Innovation Salon Series launch event will take place on Thursday, October 17th, at EPAM Continuum's headquarters in Boston's Seaport Innovation District.
When: Thursday, October 17, 2019 from 5:30 to 8:00 p.m.
Where: EPAM Continuum, 21 Drydock Ave #410w, Boston, MA 02210
Cost: Members: $75; Non-members $125; Start ups: $25
Program Agenda:
5:30 – 6:30 pm: Cocktails and networking
6:30 – 7:30 pm: Brian Johnson interviews Dr. Meredith, followed by audience Q&A
7:30 – 8:00 Pm: Closing networking reception
About our guest: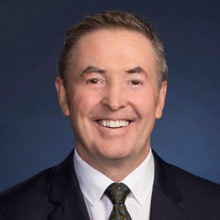 Dr. Ian Meredith, Executive Vice President and Global Chief Medical Officer, Boston Scientific Corp.
Professor Ian T. Meredith AM is the executive vice president and global chief medical officer of Boston Scientific, a position he has held since January 2017. In this role, he is responsible for leading clinical science and medical affairs across Boston Scientific and providing global leadership of the company's clinical trial strategy. Prior to joining Boston Scientific, Professor Meredith served as professor and director of Monash Heart, and executive director of the Monash Cardiovascular Research Centre at Monash University in Melbourne, Australia, from September 2005 to December 2016. Professor Meredith has over 25 years of experience as a clinical and interventional cardiologist and also served as director of the Cardiac Catheterization Laboratories and Interventional Cardiology. Professor Meredith has been a member of the Board of the National Heart Foundation (Australia) and a member of the Cardiac Society of Australia and New Zealand National Board. Professor Meredith received his Ph.D. from the Baker Institute in Melbourne and an Order of Australia (AM) in the General Division for service to medicine in the field of Cardiology as a clinician and researcher.
About the Innovation Salon
The greater-Boston area is a hot bed for new technologies and therapies. The Innovation Salon Series from MassMEDIC aims to showcase the medtech ecosystem's leaders and entrepreneurs creating new standards of care. The Innovation Salon Series is co-sponsored by EPAM Continuum, The MedTech Conference and The Mullings Group.
Each Salon event in the series will include a networking reception and guest interview by MassMEDIC President, Brian Johnson. Guests will share stories of about their careers, mentors, inspiration and innovation journey.
"By shining a light on the entrepreneur's stories—the inspiration, the challenges and roadblocks, the aha moments, the successes and everything in between—the Salon will inspire and inform our community of innovators. We are excited to partner with EPAM Continuum, The Medtech Conference and The Mullings Group on the Innovation Salon Series and look forward to showcasing the many entrepreneurs and leaders in the greater Boston area, said Brian Johnson, president, MassMedic.
Produced in conjunction with: