The Inner Workings of the Developing Mind's Sleep-Wake Cycle
About this Event
Please join us for a Lunch and Learn at Pinewood Social in Nashville on February 18th!
1 CE included for LMFTs, LPCC and LCSWs:
Learners will become familiar with the importance of healthy sleep, the signs and symptoms of common sleep disorders and their relevance when treating substance use and co-occurring disorders
Attendees will be able to identify the most common teen and young adult sleep disorders, and will gain an understanding of the unique developmental sleep challenges faced by young people
Participants will be adept at entry-level assessment, diagnosis and treatment of the most common teen and young addult sleep disorder, Delayed Sleep Phase Syndrome
Workshop Description
Sleep disorders are prevalent, including among young people
Select sleep disorders are more prevalent than others during teen and young adult years
The circadian rhythm disorder Delayed Sleep Phase Syndrome (DSPS) is the most common sleep disorder in young people
The consequences of untreated DSPS can be significant and impactful
Assessment, diagnosis, and treatment is critical and can have many benefits
A specific kit of tools with regard to treatment is critical
The event registration is free.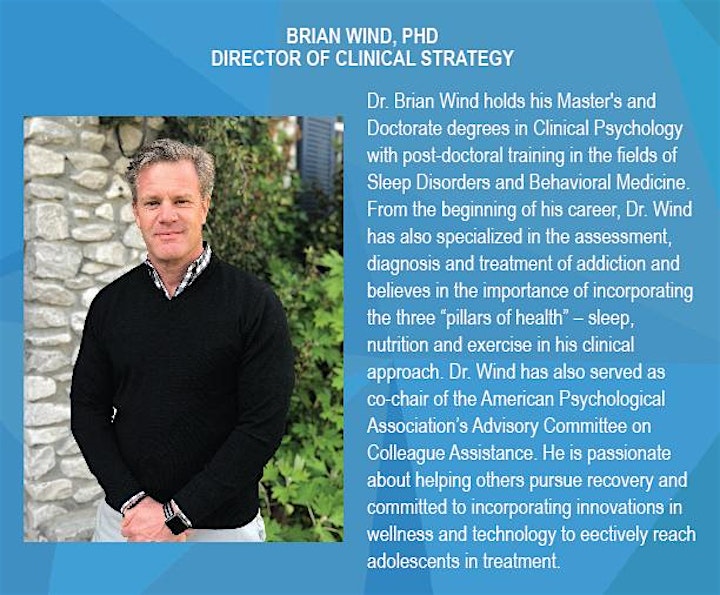 Stonewater Adolescent Recovery Center, is partnered with R. Cassidy Seminars, approved by the American Psychological Association to sponsor continuing education for LMFT, LCSW, and LPCC. If attended fully, The Teen & Young Adult Circadian Rhythms: The Inner Workings of the Developing Mind's Sleep-Wake Cycle meets the qualification for one Continuing Education Credits. One hour of credit is provided for every hour of attendance, excluding breaks and meal times. Certificates of Completion will be awarded following the conclusion of the event . Participants will receive an email with a link to complete the Participation Evaluation Form and once completed, print the CE certificate. Stonewater Adolescent Recovery Center maintains responsibility for the program and its contents.
To request special accommodations, or to report a grievance please contact Kennedy Shortal at kshortal@stonewaterrecovery.com.
This event registration is free.