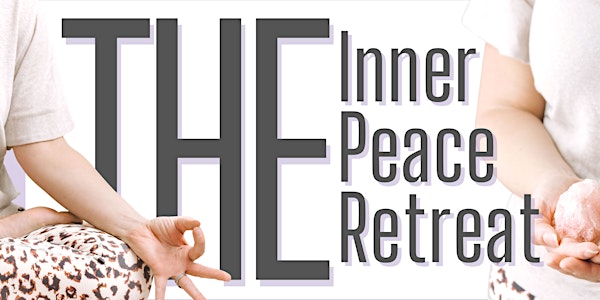 THE Inner Peace Retreat
Experience a luxury, one-day, spiritual retreat that will leave you feeling SAFE, RELAXED, ZEN and CALM!
When and where
Location
Senz Yoga, Barre & Cycle Shady Grove Road Rockville, MD 20850
About this event
Spend Your President's Day Weekend Cultivating Inner PEACE
Sunday, February 19, 2023, 1pm - 8pm
***digital or printed tickets aren't required/registration only event***
RETREAT WEBSITE (copy and paste into your browswer for more info, pictures, etc): http://tiny.cc/innerpeaceretreat
--
This is a luxury, 1-day soul journey that will leave you feeling renewed, refreshed, and at PEACE.
--
THE Inner Peace retreat is perfect for you if:
You put everyone's needs before your own, but have realized that you can't THRIVE in life if you keep pouring from an empty cup;
You are on a spiritual or healing path and feel called to attend a soulful respite that will move you forward on your journey to peaceful and abundant living;
You feel worn thin from the hustle and bustle of life, and desire a massive emotional and energetic reset so that can tap into daily ease and flow;
You feel called to learn / experience empowering spiritual practices that will awaken your Spirit, and help your human Self feel safe and grounded;
You are ready to embody the peace and abundance that is YOUR BIRTHRIGHT.
--
Master and experience mind-body practices that will balance your subtle bodies, remove energetic blocks, and regulate your nervous system so that you feel SAFE, ZEN, RELAXED and CALM.
This educational and experiential luxury retreat is being held in Rockville, Maryland at the boutique fitness studio, SENZ.
--
The Experience
1:00pm - Opening Circle + Icebreakers: Meet and greet with fellow attendees, then set your intention for your inner peace experience
1:30pm - Release + Reset: Ancient yogic wisdom meets cutting edge somatic science in this nervous system regulating workshop. Learn how to release emotional and energetic blocks, while shifting into a state of ease and flow
3:00pm - Break (15 minutes)
3:15pm - Community Acupuncture: Experience ancient, evidence-based energy healing with guest facilitator, Dr. Jessica Woronick
4:15pm - Break (15 minutes)
4:30 - Somatic Yin Yoga: Release pent up stress from your body and recalibrate your energy into a state of inner peace and calm
5:30pm - Dinner (45minutes)
6:30pm - Energetics of Inner Peace: Learn the role that your internal reality plays in creating your external reality, then experience a consciousness expanding manifestation meditation with a sound bath that will help you embody the energy of your desires
7:30pm - Closing Circle
--
ReTREAT yourself over the long weekend! You DESERVE a luxurious, restorative and healing day!
THE Inner Peace retreat is being held in Rockville, Maryland at the boutique fitness studio SENZ Yoga, Barre, Cycle.
SENZ is a living and breathing space where you can escape, reconnect, rejuvenate and re-energize. Built upon the concept of biophilic design, you will see this concept immersed throughout the entire space to help you find a sense of balance and harmony. SENZ is the place to experience inner peace.
Conveniently located in the Fallsgrove Village Shopping Center.
14925-A, Shady Grove Rd, Rockville, MD 20850
Dinner will be provided. Please provide your dietary needs when you check out.
--
Investment is $444. Price increases to $555 on February 1st.
--
Meet Your Retreat Hostess
Your retreat is being hosted by Alison Grass, a Trauma Informed Spiritual Life Coach, Mentor and Healer. She holds certifications as a Yoga Instructor, Life Coach, Spiritual Coach, and Breathwork Coach, and she training to become a Somatic Trauma Practitioner. Alison is also a clairsentient, intuitive, energy healer and light language channel.
As a spiritual coach, mentor and healer, Alison mostly works with women on a healing/spiritual path that desire a peaceful and abundant human experience. To do this, she weaves in a healthy dose of 3D logic, science, and evidence-based healing modalities, mixed with lots of multidimensional woo. Through her science meets spirituality approach, Alison has helped dozens of women holistically alleviate anxiety and overwhelm, expand their consciousness, deepen their relationship to Source energy (God, Universe, etc.), and become the powerful and abundant creators of their lives.
Alison's website: www.beatpeacewithalison.com
Alison's IG: @beatpeacewithalison
RETREAT WEBSITE (copy and paste into your browswer for more info, pictures, etc): http://tiny.cc/innerpeaceretreat