Celebrating the Ingram Difference
About this event
Join the 1st Episcopal District for the retirement celebration of Bishop Gregory G.M. Ingram, Presiding Prelate, 1st Episcopal District & Rev. Dr. Jessica Ingram, Episcopal Supervisor
Thursday, June 17, 2021
7:01 p.m. – WOMEN'S WORSHIP SERVICE HONORING REV. DR. JESSICA KENDALL INGRAM - Preacher: Rev. Dr. Jo Ann Browning; Psalmist: Timiney Figueroa; Music: Greater Allen Praise Team; First District Dance Ministry; Video Tribute reflecting Dr. Jessica's ministry. All women are asked to wear black with white pearls.
Friday, June 18, 2021
9:30 a.m. - Video & In-Person Tributes Honoring The Ingrams
12 noon - Hour of Power Worship Service - Preacher: Bishop Michael L. Mitchell, Presiding Prelate of the Twelfth Episcopal District, and President of Council of Bishops.
3:00 p.m. - Organization for the General Conference (Delegates & Alternates) - Bishop Ingram will meet with the delegation to organize for the 51st General Conference.
7:01 p.m. - WORSHIP SERVICE HONORING BISHOP INGRAM: Preacher - Rev. Dr. Marcus Cosby; Psalmist: Kathy Taylor; First District Dance Ministry.
Saturday, June 19, 2021
9:30 a.m. - First Episcopal District Video & In-Person Tributes to the Ingrams
10:45 a.m. - CLOSING WORSHIP SERVICE HONORING THE INGRAMS - Preacher: Rev. Dr. E. Dewey Smith; First District Praise Team; First District Dance Ministry
Please read carefully:
Due to COVID-19 regulations, only a limited number of individuals will be allowed entrance into the building to worship in person, while the remainder of the guests will join the celebration virtually.
If you desire to attend in person, registration for each event taking place during the weekend celebration is required and you will need to provide confirmation of your registration prior to entering the building.
Proof of having received the full dose of the COVID-19 vaccination or a negative COVID-19 test taken within 72 hours is also required. Masks will be worn at all times and social distancing will be observed.
***Virtual attendees can view all events online without registration at www.firstdistrictamec.org
Hotel Accomodations:
For out of town travelers, a block of rooms has been reserved at the New York LaGuardia Airport Marriott; (Group Name: AME Church) 102-05 Ditmars Boulevard East Elmhurst, New York 11369. The last day to book a room is May 27, 2021.
Souvenir Journal:
Our aim is that this will be a complete souvenir journal and what will make it complete is the inclusion of your ad. All ads and payments must be received through the online portal located on the First District Website by May 21, 2021: www.firstdistrictamec.org. If you are mailing a check, please make check payable to First Episcopal District; Memo: Ingram Retirement. The mailing address is First District Plaza: 3801 Market St. Suite 300; Philadelphia, PA 19104. We deeply appreciate your indispensable role in ensuring the great success of Bishop and Reverend Jessica's Retirement Celebration.
For more information or questions, email ingramretirement2020@gmail.com.
Thank you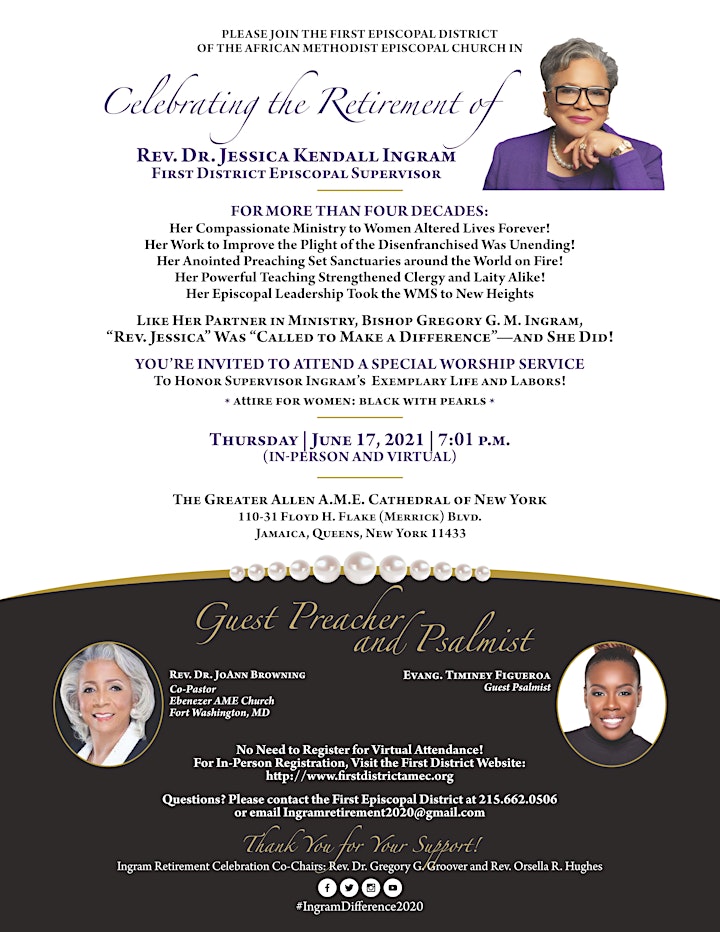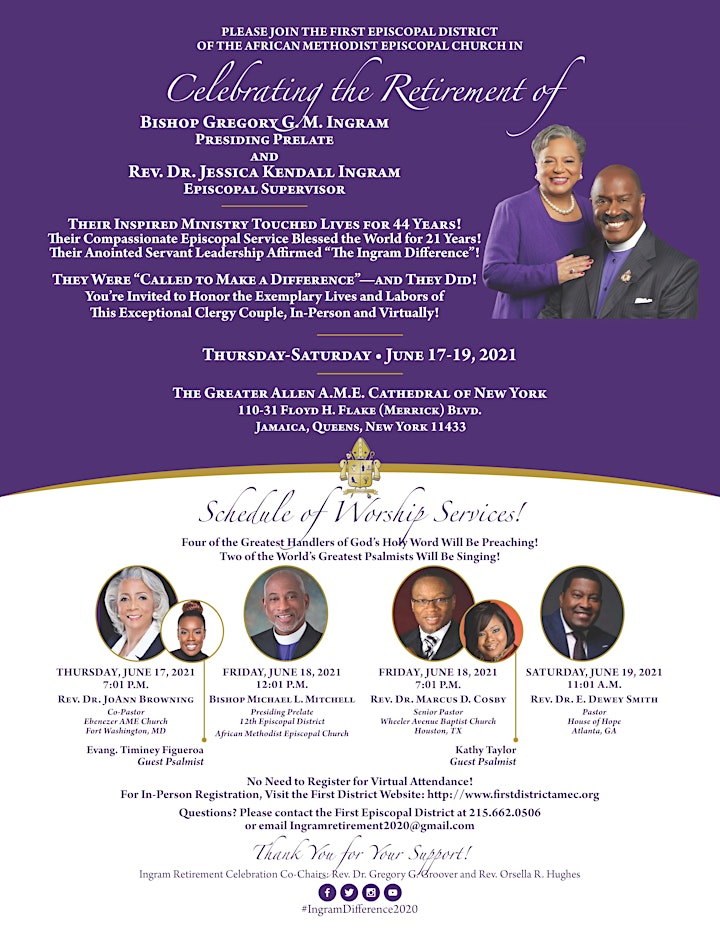 Organizer of The Ingram Difference Retirement Celebration