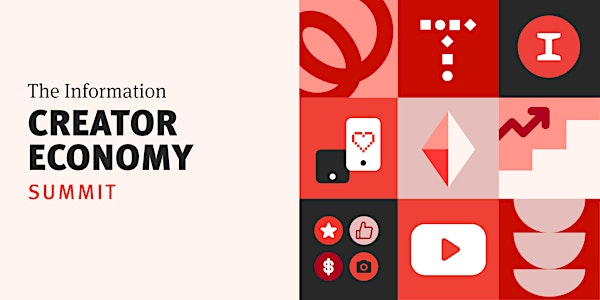 The Information's Creator Economy Summit
Join us for the launch of The Information's Creator Economy franchise, and our inaugural Creator Economy Summit, taking place 10/28
About this event
Everything about business is about to change.
Creators are the newest generation of entrepreneurs and they are building the next era of small businesses, upending longstanding business models in the process.
The smart brands are starting to reach both creators and the new generation of platforms serving them—now.
Join us for the launch of The Information's Creator Economy franchise, and our inaugural Creator Economy Summit, taking place October 28th.
The Information's Creator Economy Summit will feature fireside chats and topical panels hosted by The Information's Kaya Yurieff & other reporters from The Information with plenty of time for live Q&A with attendees.
Speakers to include:
Robert Kyncl, Chief Business Officer, YouTube
Jim Shepherd, Global Head of Talent Partnerships, Snap
Paul Davison, Co-founder & CEO, Clubhouse
Nicole Quinn, General Partner, Lightspeed Venture Partners
Ali Berman, Partner & Head of Digital Talent, UTA
Casey Neistat, creator
Steve Stoute, Founder & CEO, UnitedMasters
Joel Flory, Co-Founder & CEO, VSCO
Qianna Smith Bruneteau, Founder & CEO, American Influencer Council
Paco Suro, General Manager, Mass Pay, Tipalti
Sean Atkins, President, Jellysmack
Molly Burke, creator, @mollyburkeofficial
Lisa Honold, Founder & Director, Center for Online Safety
Rick McGuire, creator
Jose Rolon, creator, @nycgaydad
Amber Venz Box, Co-founder & President, LTK (formerly rewardStyle & LIKEtoKNOWit)
Bryan Moore, Co-founder & CEO, talkshoplive
Aya Kanai, Head of Content and Creator Partnerships, Pinterest
Shiquita M. Hyman, Creator, The Unconventional Southern Belle, LLC
Jack Conte, Co-founder & CEO, Patreon
Julian Gutman, Chief Product Officer, Patreon
Keith  Kawahata, Head of Games, AppLovin
Laura McCracken, Managing Director, Global eCommerce & Payments - Industry Lead, Software & Platforms, Accenture
Aaron DeBevoise, CEO & Founder, Spotter, Inc.
Marina Mogilko, creator
The Information's Creator Economy Summit will convene creators, investors, and the companies and technologies emerging to build the creator economy.
When you reserve your spot, you'll have access to:
An action-packed day of content + recordings if you can't attend a session live — accessible from anywhere!
A directory of all attendees, including contact information (with permission!) so you can network with each other once the event concludes.
"Speed dating" networking sessions with other attendees 1:1
If you're interested in applying to speak or would like to nominate a speaker, please apply here.
Tickets are non-transferable. Please note, as an attendee you'll be included in the event's attendee list.
Thank you to our premier partners, Canadian Consulate, Jellysmack, Patreon & Tipalti.