Description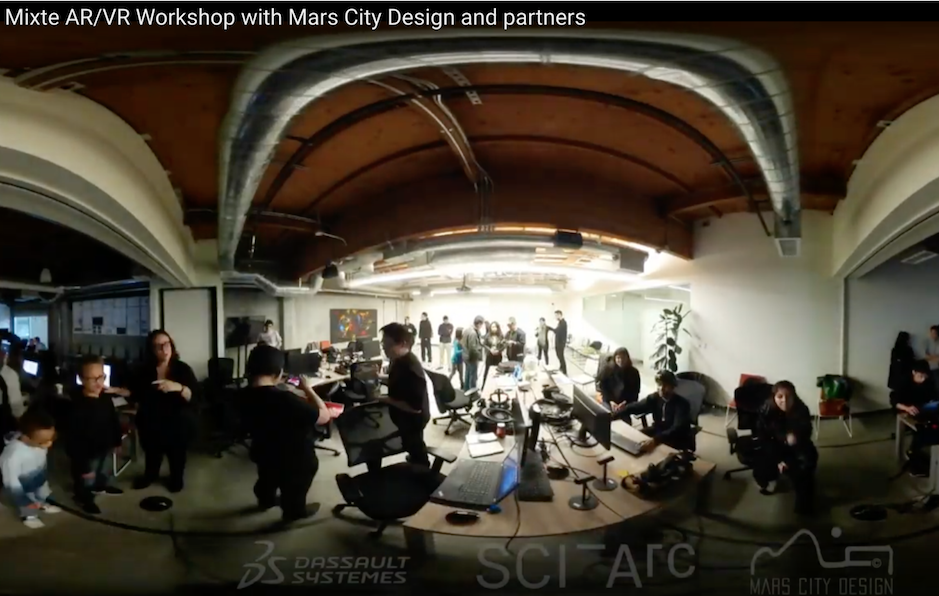 Introduction:
The Infinite Dimension is a two day fun activities, an AR & VR workshop followed by a seminar and an exhibition the next day that is open to public.
This will be our second VR Workshop after a successful one last year, where Mars architecture, Augmented Reality, Virtual Reality, and experimental parametric architecture collide in a ground-breaking event. The rendez-vous of all these multi-disciplinary creators, thought visioning our parametric design research, using Mars habitat as an experimental subject, have opened access to an infinite dimensions beyond a 3-Dimensional features in Augmented Reality and Virtual Reality.
Public with a basic AR/VR or 3D model design skill are encouraged to join to gain new skills, expand the network in this industry, and meet the unique visionary leaders in the space and entertainment field.
Main Workshop Content:
To integrate immersive technology in the design and visualization of the students' habitat design, related to the 3D Printing technology and the nature of Mars, while also testing their newly acquired skills during SCI-Arc's Introduction to 3DEXPERIENCE (CATIA) seminar, a crash course in the design of complex geometry and adaptive systems. In a professional context, the 3DEXPERIENCE platform is used by leading architecture firms to enhance building performance and constructibility. These two factors, which are critical for the design and delivery of architecture here on Earth, will play an essential role in any future Mars colonization effort.
Architects designing for Mars need to address these performance demands while envisioning a new architectural identity for humanity's settlement on an alien world. This workshop aims to explore this question by creating a new language or architecture that blends the stringent engineering requirements of interplanetary habitat design with the more qualitative human factors that define Architecture and enhance the experience with VR and AR tools.
PRIZE:
This is NOT a Competition but we do offer some Prize per our sponsors and collaborators to call the best creative and passionate people to join our effort and community. The Selected team's project will be EXHIBITED at the Mars City Design - NASA Johnson Space Center, an exhibition dedicated to our US Veteran and Astronauts and their family and friends. Their selected most favorite project will be published and the team will receive a Mars City Design poster with the invited Astronauts' autographs.
AGENDA:
DAY 1 (WORKSHOP Participants ONLY)
March 30th, 2019 at 9:00 am -7:00 pm. Introduction and All day Workshop: AR/VR Content building.
DAY 2 Morning (WORKSHOP Participants ONLY)
March 31st, 2019 at 9:00 am -11:00 am Exhibition Installation

DAY 2 Afternoon (Open to PUBLIC)
March 31st, 2019 at 1:00 pm -4:00 pm
1:00 PM Opening, Introduction to Sponsoring partners
Sponsors:
HTC Vive

MSI Computers

Dassault Systemes

Collective Future



1:30 PM SPEAKERS:
Kerenza Harris, Morphosis
Jacki Mori - Pioneer in VR/AR, XPRIZE Avatar lead. Introduction to Avatar XPrize and Virtual Reality since the 80's and the vision to the future.
David Gull, CEO of Outer Realm VR, Architect/VR expert.
Dan Berman, (NASA sponsored) Planetary Science Institute, Mars geology Research, expert on Mars surface Exploration
Keely Colcleugh, CEO and Founder of Kilograph, Architect/VR expert.


2:30PM Q&A, discussion.


3:00PM - 4:00 PM Refreshments. Press & Public exhibit.
INVITED Workshop Mentors:
Vera Mulyani, CEO, Founder- Mars City Design®
Kerenza Harris, SCI-Arc Faculty, Director of Design Technology- Morphosis Architects
Dan Berman, (NASA sponsored) Planetary Science Institute, Mars geology Research, expert on Mars surface Exploration
David Gull, CEO of Outer Realm VR, Architect/VR expert.
Aakash Shah, AECOM

Runze Zhang, Kilograph VR
ORGANIZERS:
1. Kerenza Harris
is the Director of Design Technology at Morphosis Architects (https://www.morphosis.com/) as well as Applied Studies faculty at SCI-Arc (https://sciarc.edu/). Participating students are currently enrolled in her 3DEXPERIENCE™: Intuitive Design and Parametric Modeling seminar.
Kerenza's current project and article:
Ambassador of Architecture for Girls in STEM (STE"A"M = A for Architecture and Arts), February 2019
In April 2019 Milan Design week: Solutions to sustainability in the world and regenerating designs.
2. Vera Mulyani
is the CEO, Founder of Mars City Design® and Executive Director of Marschitecture, co-Founded Spaceport LA. Vera's current Project and community outreach:
3D Printing Prototype for NASA and Bradley University 3DP Mars Habitat Challenge 2019
Mars City Design VR projects
NASA Johnson Space Center, Mars City Exhibition May 2019
The Design Museum in London, October 2019-March 2020
About Mars City Design®
Mars City Design® is the connector of the space science community with the creative artist, architects and entertainment world, designing a sustainable living solutions for Mars that are immediately applicable for Earth.
3. Ronni Kim & Eric Holdener
Founders of Collective Future.
About Collective Future
Collective Future is a strategic-innovation studio and lab that prototypes future scenarios to explore emerging opportunities, realizable outcomes, and territories beyond today's possibilities. Collective Future's process involves a combination of storytelling and design, informed by deep research, and viewed through a human lens. Through Collective Future's experience in transforming systems, we develop fresh insight to approach real-world problems, then help unleash innovative solutions and scalable transformations through your organization. Inherently multidisciplinary, we unite design and strategy with deep experience working with enterprise businesses, innovation groups, start-ups, and institutions. Collective Future looks ahead — and build a bridge back to today.
Schiapparelli crater is one of the sites we will be working on. Credit Image: HiRISE, University of Arizona, Planetary Science Institute.