The Indomitable Spirit Symposium
Actions and Detail Panel
The Indomitable Spirit Symposium
Sat, February 25, 2017, 8:30 AM – 7:30 PM PST
Description
---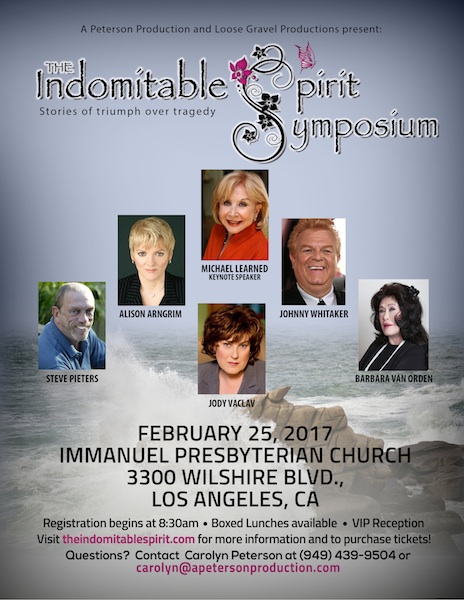 The Indomitable Spirit Symposium unites speakers from all walks of life who have overcome extraordinary circumstances and have gone on to survive, thrive and excel in their own lives. Our mission is to learn from their experiences, to be inspired to reach our full potential and to inspire others to strive for greatness. Registration begins at 8:30 a.m. We will have a Q&A following the keynote speaker and a VIP reception for Gold VIP ticket holders beginning at 6:00 p.m.
Our Guest Speakers Include:
Steve Pieters, activist and singer with the Gay Men's Chorus of LA, talks about his diagnosis with full-blown AIDS in the 1980s and his nothing-short-of-miraculous story of survival.
Barbara Van Orden, motivational speaker, author and producer, Barbara will be speaking about the process of recovering from a devastating accident and moving forward against seemingly impossible odds.
Jody Vaclav, an actress and author of "Inside Out – A One-Person Show in Two Persons" will take us through her struggles with Gender Identity Crisis and her transitional journey from Joe to Jody.
Johnny Whitaker, a former child actor most known as Jody on "Family Affair," Johnny will take us through his years of Drug and Alcohol Addiction, which led up to the development of his non-profit, Paso por Paso.
Alison Arngrim, famous for playing the girl everyone loves to hate - Nellie Oleson on "Little House on Prairie" - Alison will be addressing her painful years of Child Sexual Abuse, and how she came to be co-founder of Protect.org, an organization working with other children in similar circumstances.
Keynote Speaker: Michael Learned. Best known for her role as Olivia Walton on "The Waltons," Michael will share her stories of triumph over obstacles such as domestic abuse and alcoholism.
---
Ticket Prices:
General Admission - $45.00
Silver Preferred - $65.00 (includes preferred seating and boxed lunch)
Gold VIP - $85.00 (includes parking, preferred seating, boxed lunch and VIP reception)