Description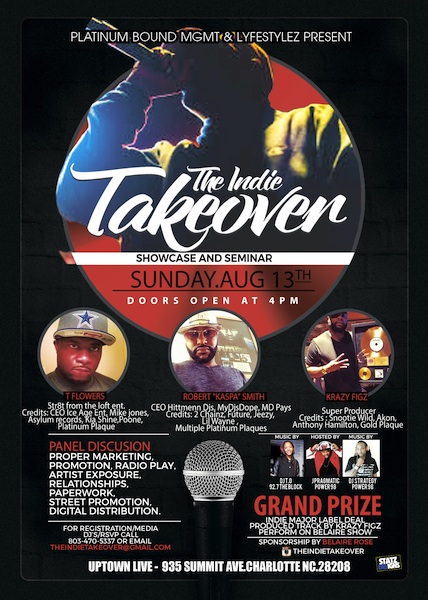 LYFESTYLEZ ENT AND PLATINUM BOUND MGMT PRESENTS:
THE INDIE TAKEOVER SHOWCASE + SEMINAR

The music industry elites are seeing a growing amount of talent within the North & South Carolina markets such as Charlotte, Florida, Tennessee, Georgia, Texas, Alabama and Louisiana. Charlotte, NC though, is being set up to be the next Music Industry hub alongside Atlanta, GA. "The Indie Takeover Showcase" is giving a very unique opportunity for new music talent to build and link with the Music Industry Elites within our industry.

There will be a host of special guest in the building such as Top Industry Label Ceo's, Record Execs, Managers, Producers, A&R's, Dj's, Radio PD's & MD's. We are giving you this rare opportunity to connect directly with the real movers and shakers of the music industry to build relationships and network with to help further your career.

There will be a RAW & UNCUT panel discussions covering: Marketing, Promotion, Radio play, Artist exposure, Relationships, Paperwork, Street promotion, Digital Distribution, Music streaming, Artist content, Touring and more.


LIVE PERFORMANCES * VENDORS * MEDIA OUTLETS

GRAND PRIZE:
One talented Artist will be signed to a Indie Label Record Deal and receive one (1) track from super producer Krazy Figz, (credits: Snootie Wild, Jeezy,Yo Gotti, Akon, Anthony Hamilton). The winner will also receive a performance on the Belaire Rose Tour.
**********************************************************
We are looking for the Artist with the Hottest Single to get signed to a Indie Label Deal, so we are not looking for how many songs you can perform. This is the chance you have been waiting for so make sure to perform your BEST song.
DOORS OPEN AT 4PM

Early Bird admission $15

*****DJ'S AND MEDIA FREE ENTRY WITH RSVP********
Date and Time
Location
Refund Policy