Description
The Indie Artist Music Festival is MRR Media Group's premiere Indie Artist Talent Event. With years of showcasing indie artist music under its belt, The Indie Artist Music Festival showcases the talent, life, styles, diversity, culture and art of independent artist . Artist fans, followers, subscribers and new music enthusiast come out to support their favorite indie artist, and new music lovers look forward to hearing the sounds of new original tunes. The event not only brings statewide talent to the local area, but it also fuels the local economy due to nearby visists to restaurants, bars, and malls in the area.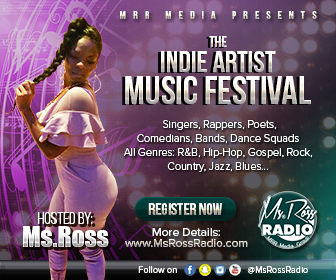 RECOMMENDED: All performers, and contestants be present for SOUND CHECK! Sound check will be from 1pm-3pm. If you're not able to attend sound check, we will not be responsible for the sound quality of you're performance.
IMPORTANT: You MUST email your performance track (song) within 24-48 hours of the event date, and be sure to include your "stage name" in the subject box of the email. Email songs to: MsRossRadio@gmail.com
BONUS: ALL PERFORMERS receive free rotation of the performancesong on MRR Radio. Songs MUST bein MP3 format.
If you have any questions, or concerns, please contact the events coordinator at 786-399-6288