Description
Indian food is far more diverse than samosa, butter chicken, and saag paneer, especially when it comes to traditional homestyle dishes.
In this class, you'll learn how to make batata poha, a flattened rice and potato dish, and masala chai, two of Chef Ronak Patel's favorite dishes. Chef Ronak will also discuss some of the differences between Gujarati (west Indian) cooking and the northern Indian cuisine most of us are familiar with.
This class is vegetarian-friendly and BYOB.
ABOUT THE INSTRUCTOR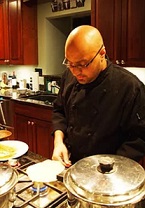 Chef Ronak Patel gained a love of preparing and eating eclectic foods at a young age. His parents welcomed his company in the kitchen and introduced him to food from around the world.
After pursuing his interest in film at Columbia College, Ronak decided to pursue his love of cooking through attending Le Cordon Bleu Chicago. He has worked for catering companies throughout the Chicagoland area, including Chef Daniel Private Dining, Urban Chef Chicago, Gourmet Gorilla, Aramark at Loyola University, Levy Events, The Perfect Dinner, Revel Central and Crème Crafted Parties and Catering.
Chef Ronak has taught classes and workshops at the Peterson Garden Project and the Sugar Beet Food Co-op in Oak Park. He has also volunteered as an Instructor Assistant in food education for elementary school students in Chicago through Purple Asparagus.