About this Event
The founders of Imvelo Safari Lodges had a vision — with their shared passion of the African bush, its native wildlife, and people, they wanted to create an unforgettable safari experience in Zimbabwe which also directly benefited local communities. In this revealing and honest discussion, Mark "Butch" Butcher, Managing Director and Founder of Imvelo, will impart the lessons learned on the front lines of the human-wildlife conflict in Hwange National Park and Victoria Falls, Zimbabwe. Butch is a former Hwange park ranger and has been a professional safari guide for 30+ years. In his presentation, he will illustrate the critical connection between engaging communities and tourists in the long-term health of Africa's wild places. At the same time, he'll detail the incredible active and unique safari experiences in Zimbabwe including walking, canoeing and mountain biking safaris and riding a one-of-a-kind game viewing train! Butch's lifelong passion for Hwange — it's elephants, wildlife and communities — forms the cornerstone of Imvelo Safari Lodges' ethos and mission today. The success of Imvelo's community and conservation work was recognized by the Adventure Travel Conservation Fund with a $20,000 grant in 2018.
The Imvelo Trust benefits Imvelo Safari Lodges' community and conservation work in Zimbabwe. The funds raised from this event will benefit their School Lunches Program. School children in Zimbabwe often find themselves in class having walked a long way from home with no breakfast in their bellies. Poor concentration and lethargy are often evident – and this will be significantly worsened in a drought year like is shaping up in 2019. To combat hunger in these increasingly frequent drought years in Zimbabwe, Imvelo organizes a school lunch program at five rural schools near their lodges in Hwange. This year, Imvelo is feeding lunch to upwards of 1800 school children over 4-5 months, a total of 153,000 meals! Each meals costs roughly $.10, therefore your $10 donation can feed 100 children!
-
Tickets $10. Proceeds benefit Imvelo Trust.
Wine and nibbles available for purchase from Elsom Cellars.
Parking is free.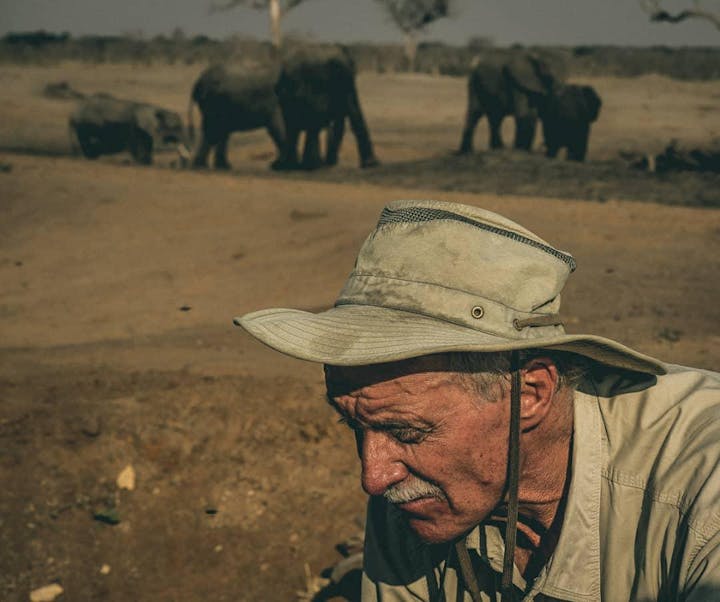 Butch with elephants. (Photo by Mark Sissons)