The IMPROV Show

Wednesday, May 24, 2017 from 6:00 PM to 10:00 PM (PDT)
Event Details

Join us on Wednesday May 24, 2017 and experience an extraordinary evening of IMPROV that will capture the essence of the performing arts, as well as pay tribute to our beloved Veterans of the United States Of America!

Many of these brave men and women paid the ultimate sacrifice so that we can enjoy freedom and liberty. This is the reason we take time each year on Memorial Day to honor them and their families, and why we are doing this benefit show on May 24th, just a few days prior to Memorial Day 2017.
Come and experience IMPROV like never before!  Every expression of the arts, collaborating on ONE stage. Actors, dancers, poets, comedians, and singers coming together in teams to improvise, inspire, and entertain you with their talent, humor, and honor for our veterans.  Watch in delight, as they improvise on stage live, using all their talents and creativity, as themes are given to them in the moment.   

Can you imagine it? It's going to be a night to remember. But it gets better! This won't just be arbitrary themes, but rather, they will represent what Memorial Day is all about. They will capture the essence of our heroes life and legacy. The serious as well as the funny. 

Attendees will include patriots from all walks of life; celebrities, industry leaders, and Hollywood's very own veterans, as well as a special guest veteran from World War II.

In addition to our performing artists described above, our headliner act for the evening is The L.A. Connection Comedy Team!  We are excited to have them with us, in support of this worthy cause.  


Get your tickets now! The show will be PG-rated so your whole family is invited.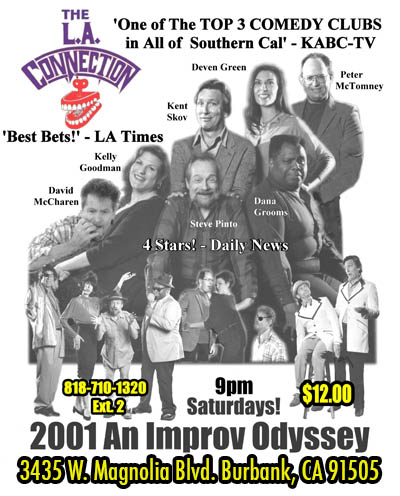 When & Where

Hollywood American Legion Post 43
2035 Highland Avenue
Los Angeles, CA 90068


Wednesday, May 24, 2017 from 6:00 PM to 10:00 PM (PDT)
Add to my calendar