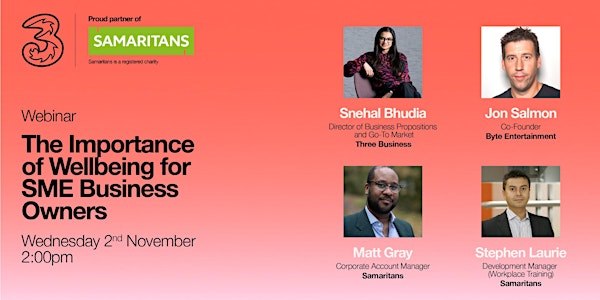 The Importance of Wellbeing for SME Business Owners
Join Three Business and Samaritans on wellbeing for SME business owners
About this event
How is the cost-of-living crisis and difficult economic environment impacting leaders in small and medium businesses? What assistance is out there to help them cope and look after their wellbeing? And how can others around them support them through this volatile time?
Join our upcoming webinar to hear from the emotional support charity Samaritans; a co-founder open about his mental health struggles; and a small business champion from Three UK, talk about the importance of looking after your wellbeing and the support available.
Faced with a challenging environment, we know that mental and emotional wellbeing support is more important than ever for those trying to navigate their businesses through uncertain times.
According to our research, almost four in ten (39%) SME decision makers say that rising costs are affecting their emotional wellbeing, while nearly half (45%) say that mental health support is just as valuable to their business as financial and technological aid.
At Three, we are keen to connect to SME leadership and provide a time to talk about mental health and ways of coping.
Our latest webinar focuses on the support available, including sharing valuable experiences and lessons on running a business through difficult times.
Support is critical, now more than ever. Sign up today to join our webinar on 2nd November to add your thoughts to the conversation and hear expert advice from Samaritans.
The panel:
• Snehal Bhudia, Three UK: Snehal has worked at Three for two years and leads the development of products for business customers. She is passionate about championing and supporting businesses.
• Jon Salmon, Co-Founder of Byte Entertainment: Jon is an award-winning executive producer, digital pioneer and co-founder of branded entertainment agency. Jon lost his father to suicide and struggled with his mental health in his 20s. Jon, who lives in London, is a proud Dad and speaks openly about mental health in the hope it will help others and save lives.
• Matt Gray and Stephen Laurie, Samaritans: Matt and Stephen work at Samaritans, the emotional support charity that is there for anyone struggling to cope, 24/7.
Three and Samaritans are in a charity partnership which will see Three connect over one million people to emotional support.
*Methodology statement: Three UK commissioned YouGov to carry out the survey. The total sample size was 1003 SME decision makers, and fieldwork was undertaken between 25th April - 3rd May 2022. The survey was carried out online.