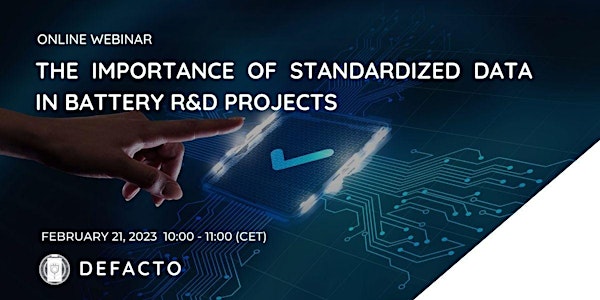 The importance of standardized data in Battery R&D Projects
Learn about the benefits of adopting standards and how to build a process aligned with best practices focused on battery cell manufacturing
About this event
The Online Webinar: "The importance of standardized data in Battery R&D Projects" is planned to be held on Tuesday, February 21st, 2023, from 10:00 to 11:00 (CET). This event is a joint effort of the DEFACTO partners where the consortium experts will present the benefits of adopting standards and how to build a process aligned with best practices that support a globally connected workflow focused on battery cell manufacturing through simulation tools.
The webinar will count on the presence of three different partners within the DEFACTO project: the coordinator entity CIDETEC Energy Storage, the Spanish Association of Standardization UNE and the communication and dissemination partner, SUSTAINABLE INNOVATIONS.
The event is open to anyone who wants to learn more about how standards can help your organization create higher-quality research and development projects. The webinar will be divided into three parts: during the first one, a welcoming will be conducted to present the speakers, the agenda and the break-out sessions prepared, while in the second part, our project coordinator will give an overview of the DEFACTO project as well as the importance of having a specific task dedicated to standardization. Last but not least, UNE will present the work and progress carried out in the framework of the generation of new standards that can facilitate the acceptance and utilisation by the market of the developed solutions. Q&A and breakout sessions will also be conducted to make the session dynamic and lively.
Are you curious about how to use standardized data in your research and development projects? Register for free
By registering for this webinar you agree that the session will be recorded and used for dissemination purposes in the DEFACTO project. Personal or professional information (name, email or any other identifying data) will not be shared.