CBEX Speaker Series | April: The Importance of Diversity in the Workplace
About this Event
CBEX is hosting it's next Virtual Speaker Series on Wednesday, December 9th from 7:30am-8:30am.
Our topic, "The Importance of Diversity in the Workplace" will be presented by our panel of distinguished speakers:
The panel will be moderated by Bruce Fritch of Fritch Consulting.
The conversation about diversity, equity and inclusion is more important than ever. Businesses are making inclusive leadership a priority to create a culture of belonging. This often requires leaders to engage in difficult conversations around power, privilege and equity. During this event, we will examine starting points for discussion on inclusive leadership in the workplace.
Attendees will be given key takeaways for how to turn productive conversations around diversity into concrete actions with suggestions for setting practical benchmarks and actionable goals within any organization.
The virtual room will open at 7:20am. Please log in BEFORE 7:30am, as we will start promptly at 7:30am sharp.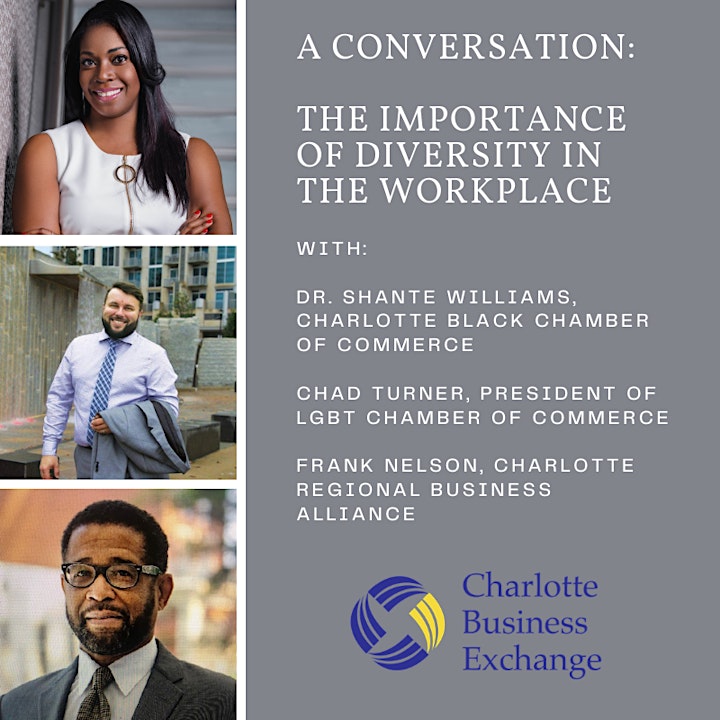 About Our Speakers:
Dr. Shante Williams, Charlotte Black Chamber of Commerce
Dr. Williams is currently the CEO of Black Pearl Global Investments, a $25M venture capital fund. She is a distinguished Venture Capitalist, business owner, Inventor, Intellectual Property Strategist, and Private Investor. Dr. Williams also serves the community as Chairman of the Board of Directors for the Charlotte Mecklenburg Black Chamber of Commerce and Heal Charlotte, a non-profit dedicated to holistic community change.
Chad Turner, President of LGBT Chamber of Commerce
Chad Turner is the president of the Charlotte LGBT Chamber of Commerce. Under his direction with Chamber, they have received national affiliation with the National LGBT Chamber of Commerce, established the Aspiring Professionals' Initiative for local colleges and created a comprehensive training program for LGBT owned businesses. The Chamber is now one of the largest LGBT chambers in the southeast with over 39% growth in membership under his leadership.
Frank Nelson, Director of Business Development, Charlotte Regional Business Alliance
As the Director of Investor Relations at the Charlotte Regional Business Alliance, Frank Nelson leads a team of business development professionals who are responsible for driving revenue in support of regional economic development initiatives. Frank Nelson is a decorated veteran of the United States Coast Guard where he served as a Maritime Law Enforcement Officer and Search & Rescue Station Leader.