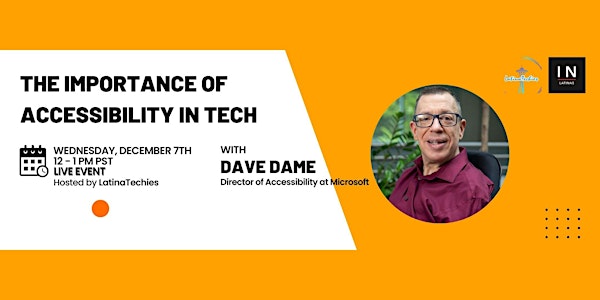 The Importance of Accessibility in Tech
Come join us to learn about the importance of accessibility in tech!
About this event
Hola!
Are you interested in learning more about accessibility in tech? This event is for you! Join us for a discussion about the importance of accessible technology and inclusive design. Our main speaker will provide an overview on accessibility, the impact on people with disabilities and how you can contribute to building technology for diversity and inclusion.
We are hosting this online session on Wednesday, December 7th, 2022 via Teams from 12:00 to 1:00 PM PST.
We hope you can join us!
Gracias,
- LatinaTechies Leadership Team -
Agenda:
12:00pm - Welcome from LatinaTechies and main speaker introduction
12:10pm - Learning discussion led by Dave Dame
12:30pm - Q&A with main speaker
12:50pm - Announcements
12:55pm - Event close
Main Speaker:
Dave Dame is a seasoned technology executive who is passionate about designing and developing hardware and software for users of all abilities. He has extensive experience in design thinking, product management, and agile delivery. Dave is a champion for accessibility (a11y) and builds high-performing teams fostering cognitive diversity and inclusion.